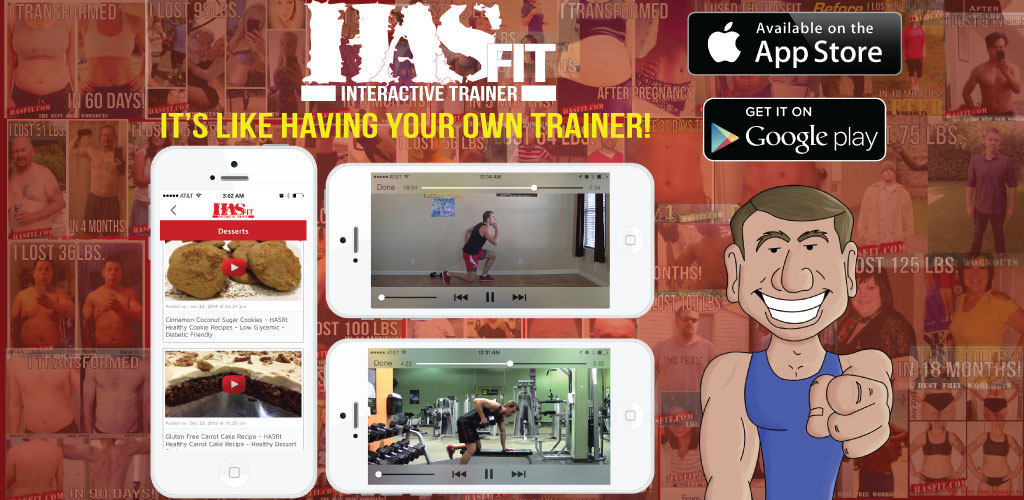 Click Here for GooglePlay Android version
Click Here for Apple iTunes iOS version.
Email Contact@hasfit.com for support or to report bugs.

As seen on Yahoo!, Women's Health
,
AskMen,
and more –
Over 20 MILLION
people have achieved results using HASfit. We don't use robot voiceovers or generic demonstrations; instead, our routines are guided by a real life
motivational
trainer!  HASfit Interactive Trainer is the most comprehensive fitness app on the market which includes:
1,000 + workout routines so you never get bored or hit plateaus
Exercise routines for all goals and fitness levels
Full length 5 – 60 minute home workouts with a motivational trainer to coach you through each rep
Gym workout demonstrations for beginner through advanced trainees
Easy to follow meal plans to help you lose fat or gain muscle the healthy way
100's of healthy recipes with demonstration videos that you and your family will love
Complete 30 – 90 day fitness programs for beginner through advanced trainees
New content added each week

Yes, you can download another free fitness app that you'll only use once or for less than the cost of a cup of coffee, you can download a tool that will motivate and inspire you to make a real change… But don't take our word for it.
See our 4.7/5 STAR RATING out of 2,600 reviews. Here's just a sample of the reviews from real life people like you who have used HASfit's programs to write their own success stories: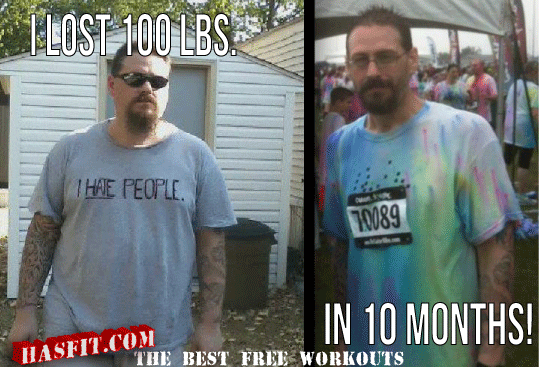 "Hey Coach Kozak, I just wanted to say thanks for the motivation, the workouts, and for helping me destroy 100 pounds of body fat since last August! (Lt. pic 282/Rt. pic 181 lbs.) The fat's dropping, the muscles are growing, and I couldn't be happier – The next step is to start the Warrior 90 routine – 1st thing in the morning! Thanks again!"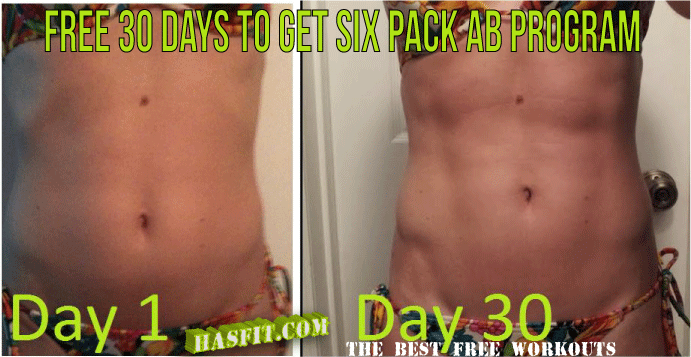 "I complete your 30 days to six pack abs. Here's the results Thank you!!"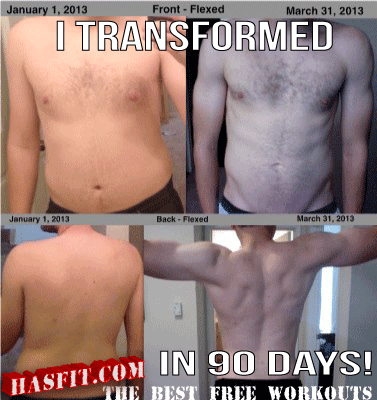 "Hello! I just wanted to thank you so much for doing what you do. I just finished your 90 day program, and it has saved my life. I've attached my before/after progress photos. I simply followed the diet plan EXACTLY, as well as the 90 day muscle building plan. It literally has been the best 3 months of my life, and I can't wait to utilize these workouts even more for the next 3 months! THANKS AGAIN!! HASFIT FOR LIFE!"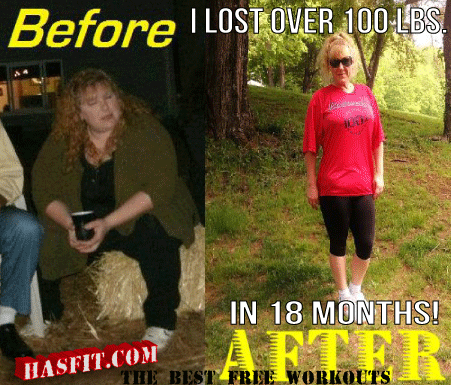 "After 18 months of eating healthy and working out… No surgeries or Magic pills… Just Hard Work, Determination. Self-Discipline … More work to do just love you page and thank you for keeping me motivated!!!! I have been asked so many times already what did i do. ALL HASfit's videos…. So I hope i get a few people motivated to watch and try … that is half the battle!! I still have a way to go to where I want to be … but if I can help just one person on the way .. I OWE HASfit AND MYSELF THE CHANCE TO DO SO!!!!"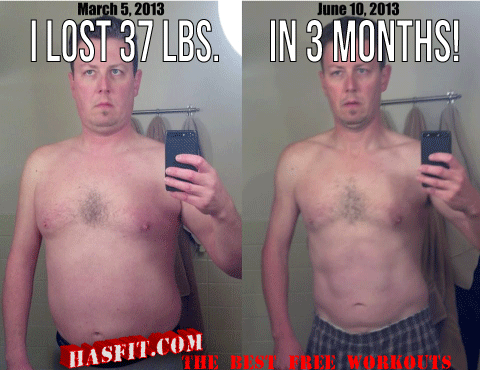 "Hey Coach Kozak, I can't thank you enough for your diet plan, free workouts and encouragement. It has changed my life! I have lost 37 pounds and transformed my body using the fat burn diet, 5 visits a week to the gym and two times through the 30 days to 6-pack abs workout."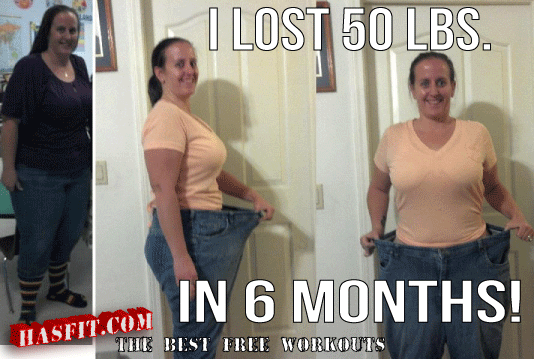 "I had to send a huge THANK YOU to Coach Kozak and the HASfit team. Back at the end of September, I posted how HASfit helped me lose weight while my husband was deployed with the military. You posted my message to your page, and there was so much support from the HASfit group. I'm now at 50 pounds lost, I've gone down from a size 24 to a size 14 and I ran my first 5K last Saturday. I can't even begin to describe how much my life has changed! In the first picture, there's a picture of me on the left at my heaviest, in March, and a picture of me on the right, in the SAME PANTS, just 6 months after starting my workout journey. In the second picture, there's a picture of me on the left in my workout clothes in early September, when I started running and doing the Warrior 90 training. On the right, there's a picture of me today, after working the HASfit program, running and joining a spin class (which I never thought I'd be able to do, either! My friends all go and always talked about it and I felt left out. Now, I go more than they do!). I just want to thank you for all you do, the inspirational messages, the free workouts and the diet advice. I can honestly say they have changed- and probably saved- my life. Thank you, thank you, thank you!"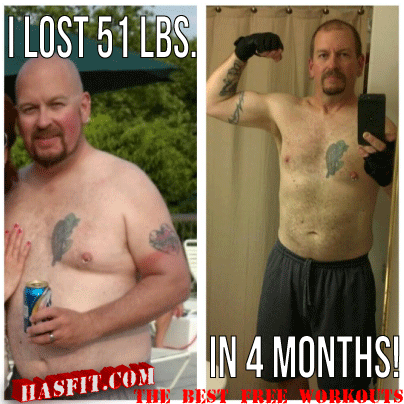 "Thanks coach Kozak….I went from 216 pounds to 165 in four months with your leadership…. you rock brother !!!!!"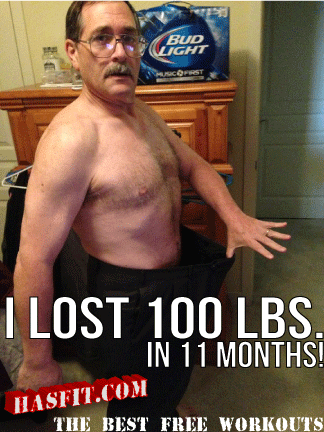 "I've had some folks ask me what's it like to lose 100 pounds…..I like to think of it as losing 1/3 of the old me…..some of me is still there, but the rest of me has taken a permanent vacation……there's a VOID where things had been, but a different, newer wholeness has filled this void…now see the results. July 7, 2012 290 lbs – June 21, 2013 192 lbs…. I want to thank Coach Joshua Kozak of HASfit (Heart and Soul Fitness) for his guidance"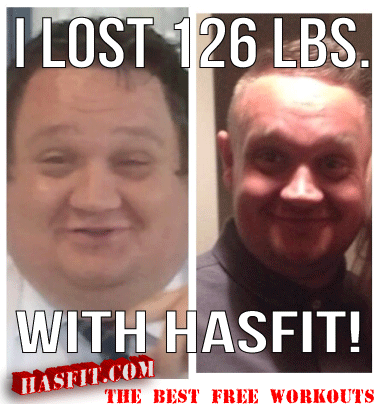 "Thanks HASFIT for helping me lose nine stone [126lbs.] since November. Hope my before and after shows other's what can be achieved using HASFIT. Great program that is really rewarding!!!!!"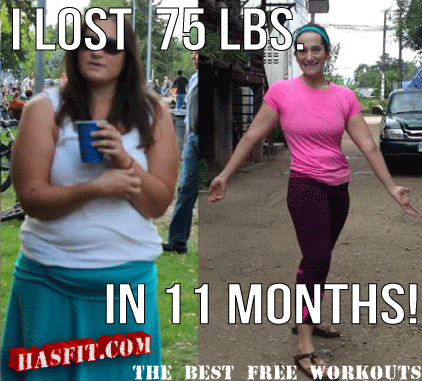 "Thank you HASfit, you keep me motivated and inspired. My life has not been the same since I discovered your wonderful sight!! 11 months and 75 pounds lost!~ Amelia"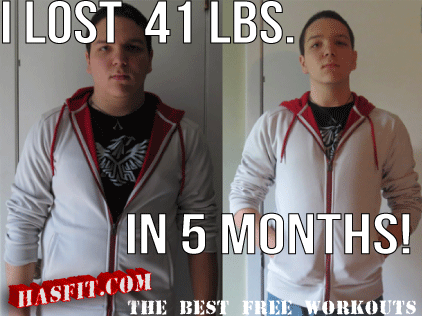 "Thanks to the coaches at Hasfit. I was able to lose 41 pounds. Thank you for the free motivation and videos. Keep making great videos! Thanks again," Andrew.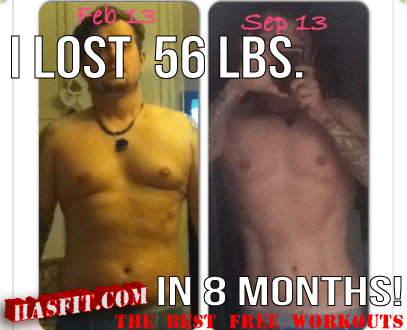 "Hey guys would just like to say thanks for your amazing work and among other things you have changed mine and my wife's life around. I have lost 4 stone [56lbs.] in 9 months and would like to that coach k and your team for great work," Glenn.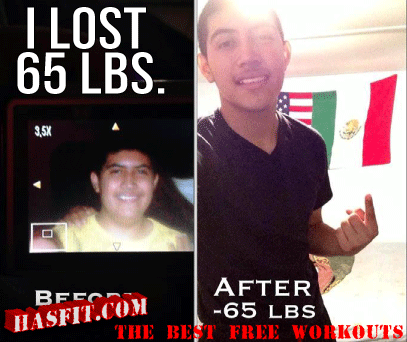 "Thank you HASfit for motivating me every day and also for the results I got. I've lost 65 pounds so far. Sadly I don't have a before picture but I lost almost all of my belly fat thanks to your teenage weight loss program," Francisco.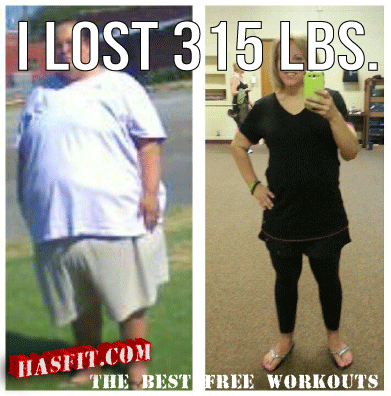 "Here's my before and after … down 315lbs! Thanks!" Regina.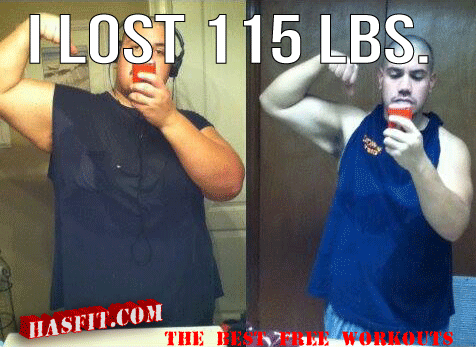 "Because your guys videos, it helped me lose 115lbs. Thanks!" Geraldo.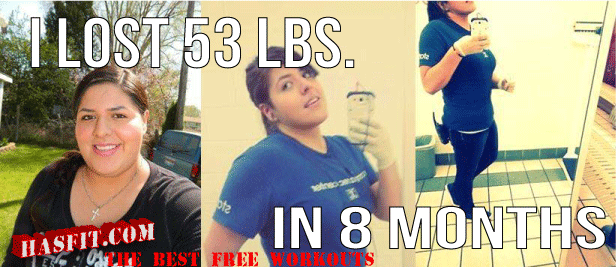 "Started my lifestyle change May 15, 2013. Down 53lbs. I'm a whole new person. I even taped "Beast Mode On" on my notebook for class." Angela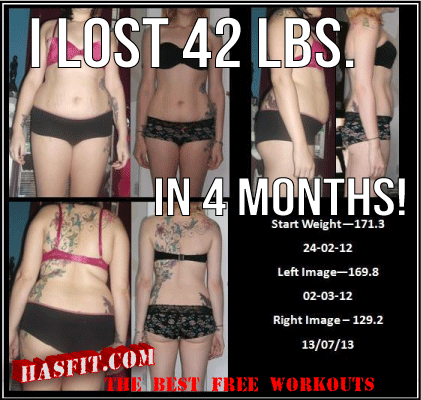 "Love your videos!!! Thanks x added a pic of my progress," Loiuse.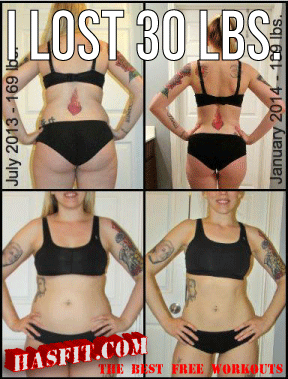 "I've never been in good shape. I wasn't raised with good eating or exercise habits, and I was never coordinated enough to play a sport growing up. After 24 years of living poorly, I realized I needed to make a change. I started following your meal plan six months ago, and soon after did your 30 Day Beginner Workout Program. I mostly lift weights now, but I've stuck with your diet for the most part (and added in some other things I've learned along the way). I'm seeing great results! I'm six months into the best journey of my life, in the best shape of my life, and I wanted to share! Thanks so much for what you do!" Jessi.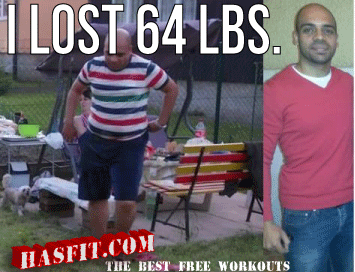 "I Decided to write you my Losing Weight Journey that if you could use it as a motivation for any person how is suffering from excessive weight and lazy to start a diet and a training plan on last July i decided to start my losing weight journey when i reached 108 KGs, my life was so hard, it was so hard to buy any clothes, your self confidence is getting down and any normal effort you do you feel that you are dying for example wearing socks for me it was like mission impossibe .
Today after starting my diet and training plan i have reached 79 KGs and I feel so much better, my life really changes and i feel that this was the best thing i have done in my Life.
Kindly, you will find attched my photo before and after starting, sorry for the quality of photos .
Finally, I'd like to thank Hasfit for helping ad supporting people to change their lives," Walleed.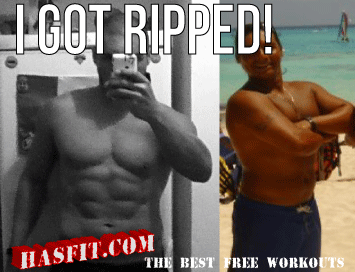 "hi coach kozak! i 've been doing one of your routines 4 times and this is how it looks! thanks," Benjamin.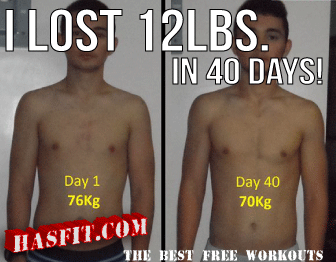 "I finished the (30 Day Low Impact Beginner Workout) and I am on my 10th day on the (30 Days Challenge To Get In Shape). I am going to finish all your programs," Roy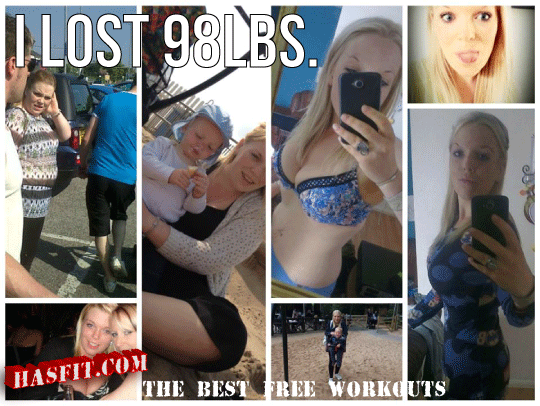 "Hi my name is katherine im 24 with two children and this year febuary 27th i decided i was sick of being so un healthy and over weight i wanted to show my sons a healthy lifestyle …… And i owe you a MASSIVE thankyou i dont go to the gym i do it all here at home and with your videos on you Tube they have helped get me were i am today along with eating clean …. no diet supplements or anything extra . Not a day has gone by were i dont workout or eat clean. I thought id show you my transformation … so far …. still along way to go as its a life style but ive ditched 7 stone so far and im so thankfull for your free you tube workouts that have helped me.Thank you," Katherine.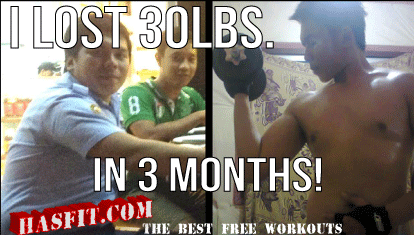 "tnx coach kozak bcoz of u im always motivated…! for always telling us not to give up! tnx HASfit… bcoz of ur workout i lost 40 lbs. in just 3 month!" Marvin.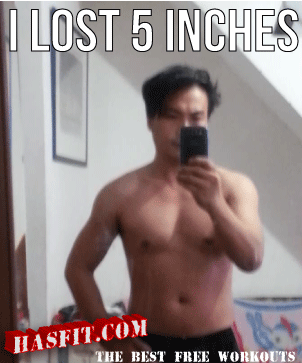 "I would like to thank you guys for all the great work outs,
from a 36 inch waistline now down to a 31 inch" Ronald.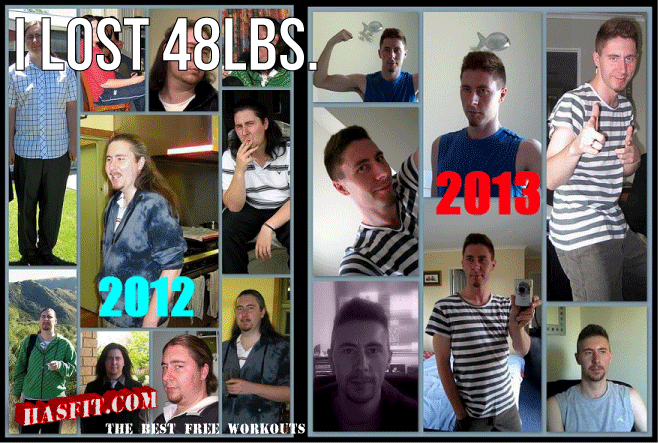 "After a 20kg weight loss this year, my most recent change was to cut my hair – The new me needed a looked after hairstyle to match my well looked after body! All these wonderful things that have changed with physical health and appearance are just a side effect of what I really started and continue exercising for Coach, and that is for my mental health. Exercising with you has taught me about 'the burn', the physical discomfort and challenging our bodies beyond what we think we are capable of," Ken.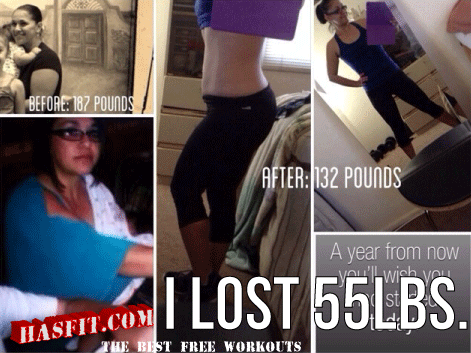 "My motivation! If you are just starting your fitness journey my number one tip to you for motivation is:: TAKE A BEFORE SHOT! Seriously! I don't have many pictures of me when I was overweight. I found these on my hubby's phone. My cheeks and arms are eeeewwww! Lol but it motivates me because I don't want to go back to that! Tired, cranky, moody, and depressed! Nope not anymore and not ever again!!! Stop thinking about it and stop complaining because neither will burn calories or help you reach your goals! My goal now : SIX PACK BABY!!" Candy.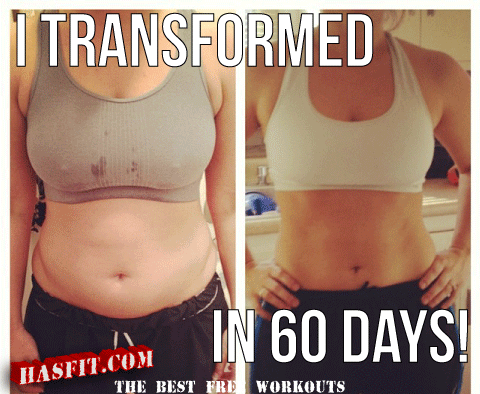 "This may be a little embarrassing but I don't care – #hasfit has completely transformed my body in 60 days I am so proud!" Katie.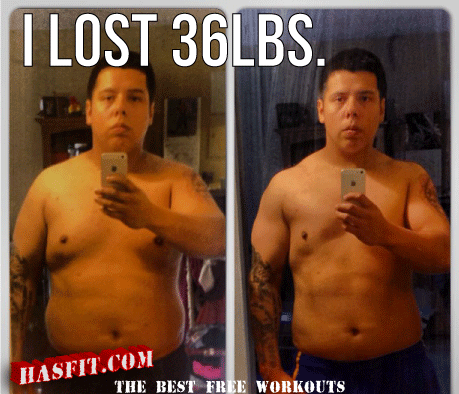 "PROGRESS!!!!! Sorry not trying to be arrogant but I'm jus amazed and proud of how far I came. If I can do it, anyone can!! #hasfit #dedication #-36lbs #stillnotthereyet #bestshapeofmylife," Drom.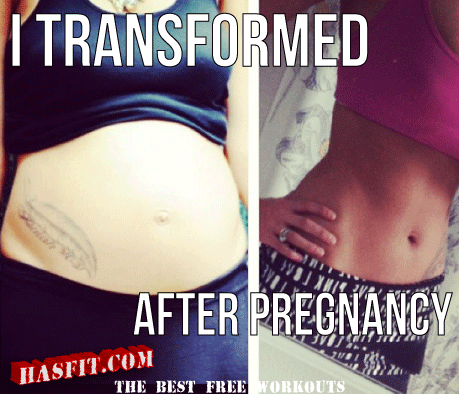 "I know it's not transformation Tuesday but I am just so excited about getting fit again. I have a long way to go but I am determined to be the healthiest that I possibly can. As a new mom it is so hard to find time to workout much less eat right, but seeing results motivates you to make time. I even workout with Maddox lol! He loves it too! If I can do it so can you! #fitfriday #preggobellytoabs," Kaylyn.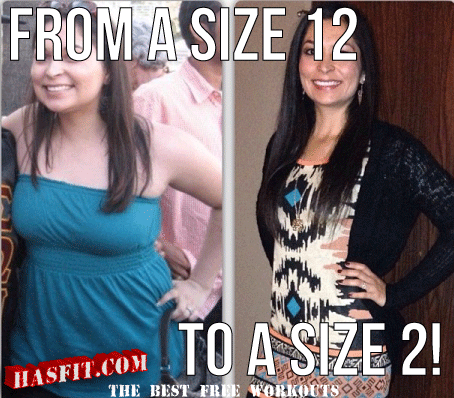 "The results speak for themselves. I went from a size 12 to a size 2, my doctor tells me I am as healthy as a woman younger than my own age, and I feel great!" Jessica.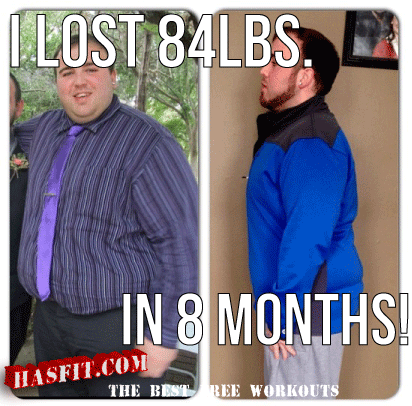 "8 months later, and 84lbs lighter. The only person you can fail is yourself, Never Die Easy!!! #HasFit," Mikey.