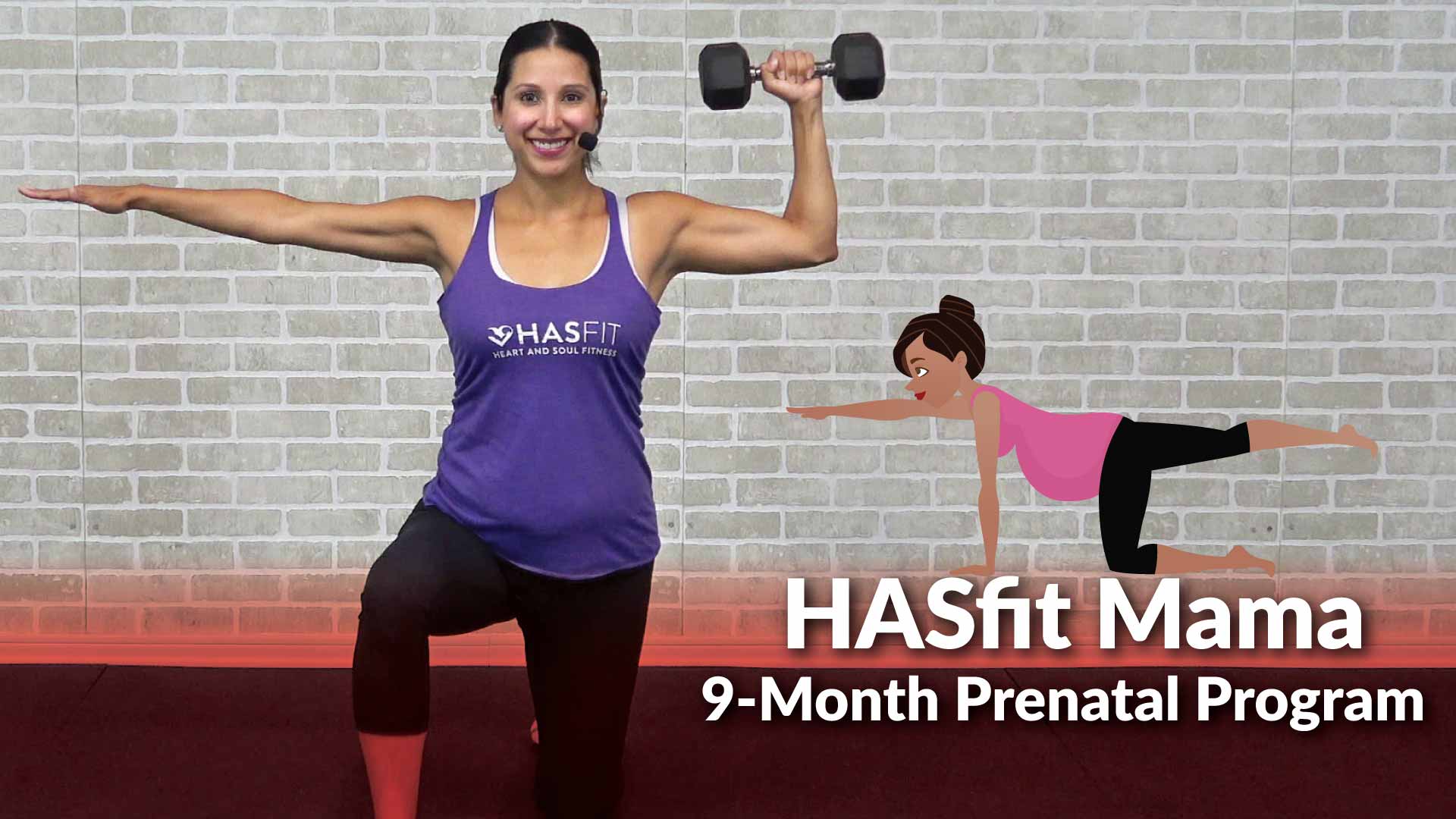 HASfit Mama 9-Month Prenatal Exercise Program
A complete prenatal workout plan to guide you through a safe and healthy pregnancy
Congratulations HASfit Mamas! Whether you realize it or not you've just taken the first step to a healthy pregnancy and baby.
Exercising during pregnancy comes with a host of benefits including helping you to stay in a healthy weight range, lowering your risk of gestational diabetes by 27%, and even making labor easier.
We've carefully crafted this pregnancy workout plan to keep you and your baby as safe and healthy as possible, while still getting you the results you're looking for.
The HASfit Mama prenatal workout plan includes over 80 fitness videos to guide you through your 1st, 2nd, and 3rd trimesters including...
- Low impact cardio to keep both yours and the baby's heart as efficient as possible
- Resistance training to improve strength and muscle tone throughout your pregnancy and during your recovery period
- Diaphragmatic breathing and core training to strengthen your pelvic floor, speed up delivery, and lessen the chance of postnatal incontinence
- Yoga and stretching to prevent lower back pain and prepare your hips for labor
Who can use this program?
Any mama who has been cleared for exercise by their doctor. This prenatal workout plan includes modifications for beginner through advanced trainees. The progressive program allows you to start jump in and begin at anytime during your pregnancy. Just choose how many weeks pregnant you are (Weeks 1-40 included) and get moving today! You're encouraged to adjust the routines and plan to your specific needs and goals. Use the modifications to decrease or increase the difficulty.
Workout Length and Frequency:
The average individual workout session is between 15-40 minutes in length. While this program is designed to be used 5 days per week, it can easily be adjusted to less or more depending on your schedule and how you feel during different phases of your pregnancy.
Equipment:
This prenatal exercise program only requires a pair of dumbbells. The weight you use will be totally dependent on your fitness level, but most will use between 2lbs - 10lbs (1kg - 5kg) per dumbbell.
You may also want an exercise mat for comfort.
Follow along in the HASfit app or download the PDF calendar for your computer. Learn more