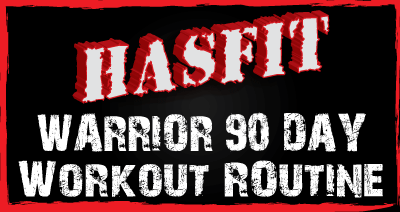 HASfit Warrior 90 is hands down the best way to get in the greatest shape of your life without ever leaving your living room. The FREE 90 day workout routine is great for both men and women. This total body conditioning program includes 30 work out routines, exercise schedules, diets to lose or gain weight, and the best workout motivation and support. All you have to do is follow 3 easy steps; 1. Workout, 2. Follow the meal plan, and 3. Like our Facebook fan page for fitness motivation.
Start below!
Warrior 90 Is The Complete Exercise Program You've Been Looking For!
Step 1. Work out Plan and Fitness Schedule
NOTE: This is a intermediate to advanced program. If you are completely new to fitness, then this is not the program for you. Click here to determine which program is right for you.
The HASfit Warrior 90 Day Workout Routine will continuously take your body to new levels of fitness that you never imagined possible. The home exercise program for men and women creates a lean, athletic, and toned body. Warrior 90 contains 30 separate work out routines to keep you from getting bored while utilizing muscle confusion to avoid plateaus and keep the results coming! The fitness schedule puts together all the best forms of training known to man in one work out plan including but not limited to strength training, plyometrics, kickboxing, MMA, cardio, running, high intensity interval training – hiit, power yoga, and olympic lifting.
INSTRUCTIONS: The fitness plan outlines a 13 week workout schedule. Each week contains 5-6 workout days and 1-2 OFF days. You may mix up where you take your OFF days as long as you work out 5 days per week. Every workout routine can be completed in less than 50 minutes. Depending on your level of fitness, you may need to adjust the plan for your needs. Try your best to complete each exercise routine without any breaks. Each week progressively gets more difficult, so if you are not able to complete a certain week then repeat that week until you feel comfortable moving forward.
EQUIPMENT:
The only equipment required is a pair of dumbbells. Most males will require a pair between 10lbs – 25lbs while most females will need a pair between 5lbs – 10lbs. Depending on what surface you are exercising on, you might want to have a yoga or ab mat available for comfort.
Start each workout with the warm up exercises and end each workout with cool down exercise stretches for flexibility
Step 2. Choose the Warrior 90 Diet Plan that is right for you.
Following a healthy meal plan is just as crucial to your success in the program as the workouts! There are two meal plan options for you to choose from. The Guide To Losing Fat Weight Loss Diet is perfect for those that wish to get lean muscle and burn fat at the same time, while The Top Secret Muscle and Weight Gain Diet is for those looking to bulk up and focus on gaining weight. Decide what your priorities are and follow the appropriate Warrior 90 diet. Feel free to test out each one to see which is a better fit for your goals.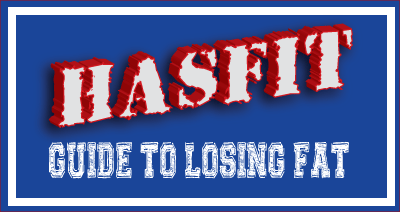 HASfit's Guide To Losing Fat is a FREE weight loss meal plan that promotes healthy dieting by eating 5 meals per day. This weight loss diet was made for you! You need an easy to use system to eat healthy and lose weight, but not feel starved all day. Oh yeah, and you want it for free! We designed this system to be easy for you to integrate into your daily routine and keep it there. By managing your sugar levels and eating the best diet foods we keep you in the fat burning zone all day!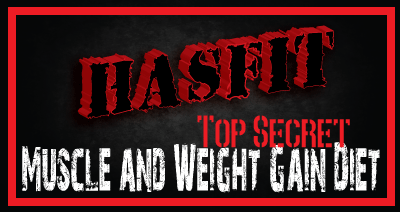 HASfit's Top Secret Muscle and Weight Gain Diet is what you've been looking for! You need an
easy to use system to add mass and gain muscle while staying lean. Oh yeah, and you want it for FREE!
We designed this Bodybuilding diet to be easy for you to integrate into your daily routine and keep it there. By
eating healthy carbs and lots of protein, we keep you in the muscle building zone all day!
Comments
comments
Thank you for using HASfit! Please direct all comments and feedback to the Community Forum.