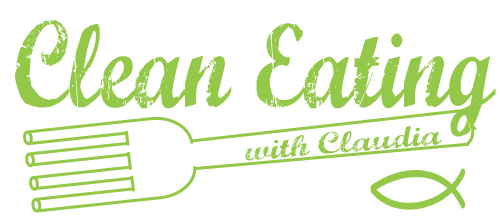 I realize that it's been a long time since I've updated you guys on the progress of my workouts, diet, and the general happenings in the Kozak household and there's good reason for that. We've recently made a cross-country move to California, I was trying to squeeze in as much family time as possible, and I was also gearing up for my baby shower ALL occurring at the end of March. I'm extremely close to my family and being hormonal as well as leaving your family behind can make for an emotional time for a pregnant lady.
Anyhow, all is well now, we're settled in our new digs and I'm definitely getting used to my new state. We're just south of San Francisco now and I must say…the weather is not terrible. 🙂
I'm now a happy and healthy 35 weeks into my pregnancy, continuing my exercise routines albeit they've definitely slowed down, and have found a new wonderful midwife here in California.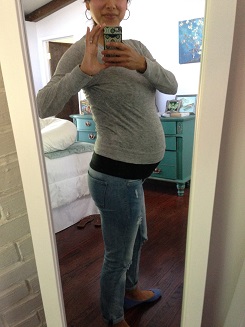 I'm also currently doing a home study Hypnobabies Course that's teaching me self hypnosis techniques to manage pain or "pressure waves" as they're referred to as I'm planning an intervention free birth. I've also been reading great books such as Birthing From Within and Guide to Childbirth which have definitely given me a whole new perspective on the wonderful things a woman's body is capable of when she's allowed to birth freely and naturally….so very un-American haha!
Aside from how my time has been occupied these days (nesting, reading, studying, organizing the baby's room) I've been meaning to share a few recipes with you guys specifically pertaining to CAKES!
Being the health nut that I am as well as a way for me to show love to the ladies in my life, I decided to bake my own baby shower cakes. I've mentioned it before but we have issues of Alzheimer's, (pre)diabetes, high blood pressure, obesity, and just general sugar addiction in my family. My baby shower was on a Sunday and I started the baking preparations on Wednesday! I'll share with you how I did it and a timeline breakdown. Cakes are resilient and can easily be made days ahead of time. Don't try to do everything the night before or you will go CRAZY! These cakes serve about 40 people. **Note-if stored in refrigerator, make sure they're covered and/or in an air tight container to prevent drying out.
Wednesday: STRAWBERRY BUTTERCREAM FROSTING
1 cup chopped fresh strawberries
1 lb bag of Swerve All Natural Sweetener Confectioners Style
2 sticks of softened grass fed butter
1 tsp vanilla
Preparation: I took my butter out of the refrigerator before going to bed and the next morning it was nice and soft. Take your cup of chopped strawberries and place in a food processor. Blend until a puree consistency is formed.
With a hand mixer or stand up mixer, whip the three sticks of softened butter until well combined and slowly add in the strawberry puree. Once the butter and puree are mixed in, slowly add in the confectioner's sugar. I broke this process up into 1/4's because the powdered sweetener will cause a cloud of sugar if dumped in too quickly! TAKE YOUR TIME.
Once all of the confectioner's sweetener is mixed in well you can lastly add the vanilla extract.
When done mixing the frosting, I placed it in a storage container and placed it in my refrigerator. Simply allow it to fully soften (overnight) if you plan to frost a cake at a later date or you can frost immediately. This frosted a double layer 9″ cake or will do 24 cupcakes.
Thursday: ALMOND LAYER CAKE
1 1/2 Swerve Sweetener (Granulated) **you can also use regular coconut sugar or any other alternative that measures like sugar**
1 1/3 cup room temperature grass fed butter
4 cups almond flour (I bought a bag of this almond flour from Costco! *one bag is $21.99 in store*)
1 cup coconut flour
1 tsp salt
1 1/2 tbsp baking powder
8 eggs at room temp
1 cup milk (I used Flaxmilk)
2 tbsp vanilla extract
1/4 tsp almond extract
1 cup strawberry preserves (I bought a jar of good sugar-free (sweetened with erythritol) preserves from my local health market)
Preparation: preheat oven to 350F.
Prep 2 round 8″ or 9″ cake pans with parchment rounds and nice coating of butter.
Begin by creaming butter and sugar with hand mixer or stand mixer. Once combined and fluffy, add milk, vanilla, and almond extract at a low-speed, until it is wet and combined. Add in the eggs, a few at a time, and let it slowly mix.
Combine all dry ingredients together.
Add dry ingredients into wet ingredients until batter is formed.
Pour the batter evenly into the 2 cake pans, and bake for about 35 minutes or so. Watch carefully as nuts burn quickly.
Let them cool for a bit before loosening edges from pans and inverting onto cooling racks. These cakes are best served the day after as the flavors have had the opportunity to marry together.
Once my cakes were completely cooled, I wrapped them separately (and tightly) in plastic wrap and let them sit at room temperature until Saturday, a day before my shower. If you have room, you can also place them in your refrigerator (tightly wrapped). Once I was ready to frost (Saturday night), I liberally applied the strawberry preserves between the two layers and then went to town on the cake with the strawberry butter cream frosting and placed the cake in the refrigerator until just before the shower.
Thursday: BASIC CHOCOLATE BUTTERCREAM FROSTING:
2 sticks softened grass fed butter
3/4 cup cacao powder (I used Navita's Naturals Cacao Powder)
1lb bag of Swerve Sweetener (Confectioner's Style)
1/4 cup milk ( I used flax milk)
1 teaspoon vanilla extract
PREPARATION: Add cocao to a large bowl or bowl of stand mixer. Whisk through to remove any lumps.
Cream together butter and cocao powder until well-combined.
Add sugar and milk to cocoa mixture by adding 1 cup of sugar followed by about a tablespoon of milk. After each addition has been combined, turn mixer onto a high speed for about a minute.
Repeat until all sugar and milk have been added.
Add vanilla extract  and combine well.
If frosting appears too dry, add more milk, a tablespoon at a time until it reaches the right consistency. Again, I placed the frosting in a storage container and placed it in my refrigerator. Simply allow it to fully soften (overnight) if you plan to frost a cake at a later date or you can frost immediately. This frosted a double layer 9″ cake or will do 24 cupcakes.
Friday: DARK CHOCOLATE CAKE & CHOCOLATE WHIPPED CREAM FILLING
For the CAKE:
2 cups almond flour
1 cup arrowroot powder
1/2 cup coconut flour
2 teaspoon baking soda
1 teaspoon salt
1 cup cocoa powder
1 1/2 cup maple syrup
1/2 cup softened butter (plus more for greasing pans)
8 eggs room temperature
1 tbsp vanilla extract
Preparation: Preheat your oven to 350.
Grease and line 2 8″ or 9″ round pans and line the bottoms with parchment paper.
Combine the dry ingredients into a medium sized bowl
In a small separate bowl, whisk the eggs and add the melted coconut oil, maple syrup, and vanilla. Stir to combine and add to the dry ingredients.
Beat until well combined by hand, and pour into the prepared pans.
Bake for 20-25 minutes
Again, wait until completely cooled before removing from the pans and wrapping them with plastic wrap if you're making these cakes ahead of time. These can also be stored at room temperature or in your refrigerator.
WHIPPED FILLING:
3/4 cup heavy cream
1/4 cup chocolate chips (I used Enjoy Life mini Chocolate chips because they're gluten and soy free)
1 teaspoon vanilla
Preparation: Melt the chocolate chips in a double boiler over simmering water.
Beat your cream until it's fairly stiff. (Either by hand mixer or stand mixer)
Add in the melted chocolate and give it another quick whip, and scrape down the sides of the bowl so it's mixed in well.
I stored the chocolate fluff in an old yogurt container in the refrigerator and liberally applied it in between the chocolate cake layers right before I frosted them!
My shower went off without a hitch and I simply purchased Baby's Breath to place around the cakes for decoration.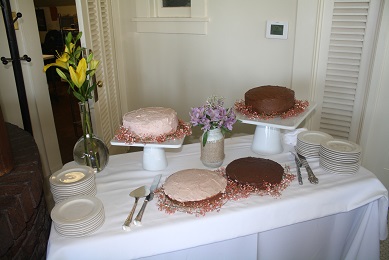 Everybody loved the cakes and were shocked to find out they were refined sugar free! My aunt even asked me for the chocolate cake recipe for a chocolate loving friend and my mother took a huge slab of strawberry cake for dessert over the next few days. 🙂 Overall, I had an emotional yet wonderful day with the 40 best ladies in my life. I can only hope to be half the mother as all of the strong and influential women in my family!