I'm BACK!
It only took me 6 months but learning how to take care of a baby is quite a steep learning curve, at least for me it has been. There are some women who are just very natural and slip right into the mother role but for me quite frankly it's been a bit difficult at times. I'm not sure if it's because we're far from family as it's just the two of us in California or if because I just happen to find it more difficult than other women. Either way, I'm finding my groove and definitely feeling more of myself except only with the most adorable plus one. And of course as well all know, Coach Kozak is a superstar father and such a supportive husband….duh! 🙂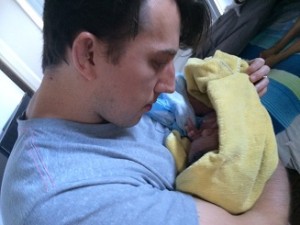 Little Miss Alessandra is 6 months old as of December 3 and is currently 26 inches, 17lbs 1.5oz of pure energy and joy. She was quietly born at home after 7 quick hours of labor and weighed in at 6lbs 7oz. As of late she loves sleeping on her tummy, rolling across the floor/bed, going on walks, and watching her parents workout! She's already mastered a plane ride home to Texas to meet cousins, aunts, uncles, and one of her remaining great grandmothers. We'll be venturing to Michigan soon to do the same with Joshua's family. She also loves when we sing to her, bath time, exploring new solid foods, and going to bed at 6:30PM. Don't mind me as I'll just be uploading a few pics to this post that have nothing to do with the content, just wanting to share a few of the babes. 😉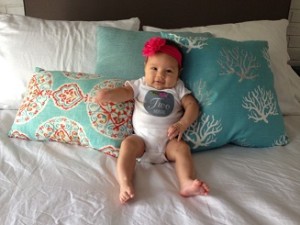 I've found a wonderful group of women in the form of a support group here in the Bay Area at Blossom Birth Services and have met some fantastic women. As a new mother, their support has been invaluable to me and it's so great to meet women going through the exact same thing as you. I'd even go far to say it is A MUST.
Ale (pronounced Ah-lay) as we call her is currently at home with Coach Kozak as I quietly sit at a coffee shop writing this blog. This is the first time I've stepped out really without her since she's refused to take a bottle. Thank goodness for starting solids! Being here alone feels strange yet amazing all at once. I will definitely try my darndest to make this a weekly update with baby, Coach Kozak, and recipe news.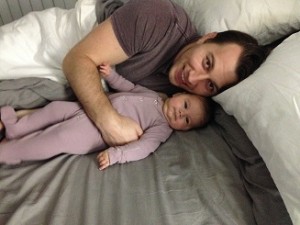 Coach Kozak as we all now has taken a step back from HASfit for now to focus all of his energies into Track My Fitness and I am enjoying my maternity leave from HASfit but I'm hoping to ramp things up again. In all honesty it's all about me finding the time to write and post these posts. I don't have a nanny (yet) nor do I have any extra pair of arms in the form of family other than Coach so I hope to start some interviewing for nannies after the first of the year.
SO! As far as my eating has gone post baby, I watch what I eat but have really embraced flexible dieting. I started working out at 3 weeks post partum (very lightly) and as soon as I got the all clear at my 6 week appt, I turned up the volume on my workouts. I had a tiny tear which did not require any stitches nor did I or have I experienced any lingering pain.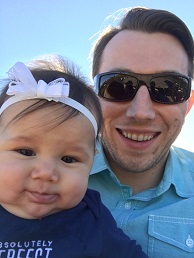 I've also never had any issues with my milk supply and in fact I had oversupply issues which made breastfeeding difficult in the beginning. Since I'm working out at full force again, I stay super hydrated through out the day and track my food intake just to ensure that I'm eating enough to keep my supply up. I make sure still to have protein at every meal/snack, take in complex carbs and tons of healthy fats. I'm about 3 pounds away from my pre baby weight and now can fit back into my pre baby jeans. It took me about 4 1/2 to 5 months to do so but I did it at my pace. Trust, I had and still have many delicious burgers, burritos, and wine in between but I feel as though I've been able to balance the good with the bad at this point. We all know I have a sweet tooth too! Share desserts or order mini ones is my advice. I also have a pretty good low carb/high fat cookie recipe I've been loving lately as well and you know I'm going to share it with you. I also have been a BIG fan of Swerve Sweetener  and it really helps cut out the unnecessary crash and calories from sugar so I can eat my desserts without worrying too much about packing on the pounds.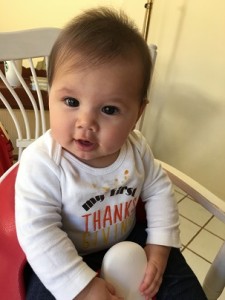 Working out has really been my release and my dedicated me time since the beginning; which is crucial for new mothers. Taking time for yourself to do something you enjoy doing is a definite MUST. If it's good for mommy, it's good for baby as well as daddy and really anyone else you share your home with. If there's anything I learned from support group it is to take care of yourself and don't be afraid to do so!