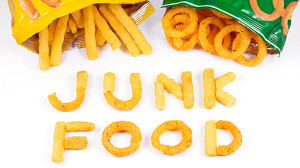 More and more people are starting to realize that the foods they put into their bodies directly affect their health and quality of life. This causes a real problem for food manufacturers who've spent billions building the infrastructures needed to produce these "food-like" compounds.
Their solution is just to rebrand these foods as healthy options and hope that the public can't tell the difference.
Here are 10 junk foods that are dressed up as healthy:
1. Fruit Juices… Which Are Basically Just Liquid Sugar
A lot of people believe fruit juices to be healthy. They must be… because they come from fruit, right?
But a lot of the fruit juice you find in the supermarket isn't really fruit juice. Sometimes there isn't even any actual fruit in there, just chemicals that taste like fruit. What you're drinking is basically just fruit-flavored sugar water.
That being said, even if you're drinking 100% quality fruit juice, it is still a bad idea. Fruit juice is like fruit, except with all the good stuff (like the fiber) taken out… the main thing left of the actual fruit is the sugar.
If you didn't know, fruit juice actually contains a similar amount of sugar as a sugar-sweetened beverage.
2. "Heart Healthy" Whole Wheat
Most "whole wheat" products aren't really made from whole wheat. The grains have been pulverized into very fine flour, making them raise blood sugar just as fast as their refined counterparts.
In fact, whole wheat bread can have a similar glycemic index as white bread. But even true whole wheat may be a bad idea… because modern wheat is unhealthy compared to the wheat our grandparents ate.
Around the year 1960, scientists tampered with the genes in wheat to increase the yield. Modern wheat is less nutritious and has some properties that make it much worse for people who are intolerant to gluten.
There are also studies showing that modern wheat may cause inflammation and increased cholesterol levels, at least when compared to the older varieties.
Whereas wheat may have been a relatively healthy grain back in the day, the stuff most people are eating today is best avoided.
3. Processed "Low-Fat" and "Fat-Free" Foods
The "war" on saturated fat is the biggest mistake in the history of nutrition. It was based on weak evidence, which has now been completely debunked.
When this started, processed food manufacturers jumped on the bandwagon and started removing the fat from foods. But there's a huge problem… food tastes horrible when the fat has been removed. That's why they added a whole bunch of sugar to compensate.
Saturated fat is harmless, but added sugar is incredibly harmful when consumed in excess.
The words "low-fat" or "fat-free" on a packaging usually mean that it is a highly processed product that is loaded with sugar.
4. Sports Drinks
Sports drinks were designed with athletes in mind. These drinks contain electrolytes (salts) and sugar, which can be useful for athletes in many cases.
However… most regular people don't need any additional salts, and they certainly have no need for liquid sugar. Although often considered "less bad" than sugary soft drinks, there really is no fundamental difference except that the sugar content is sometimes slightly lower.
It is important to stay hydrated, especially around workouts, but most people will be better off sticking to plain water.
5. Vegetable Oils
We are often advised to eat seed- and vegetable oils. This includes soybean oil, canola oil, grapeseed oil and numerous others.
This is based on the fact that these oils have been shown to lower blood cholesterol levels, at least in the short term. However… it's important to keep in mind that blood cholesterol is a risk factor, NOT a disease in itself.
Even though vegetable oils can improve a risk factor, there is no guarantee that they will help prevent actual hard end points like heart attacks or death, which is what really counts.
In fact, several controlled trials have shown that despite lowering cholesterol, these oils can increase the risk of death… from both heart disease and cancer.
So eat healthy, natural fats like butter, coconut oil and olive oil, but avoid processed vegetable oils as if your life depended on it (it does).
6. Most Commercial Salad Dressings
Vegetables are incredibly healthy. The problem is that they often don't taste very good on their own.
That's why many people use dressings to add flavour to their salads, turning these bland meals into delicious treats. But many salad dressings are actually loaded with unhealthy ingredients like sugar, vegetable oils and trans fats, along with a bunch of artificial chemicals.
Although vegetables are good for you, eating them with a dressing high in harmful ingredients will totally negate any health benefit you get from the salad.
Make sure to check the ingredients list before you use a salad dressing… or make your own using healthy ingredients.
7. Low-Carb Junk Foods
Low carb diets have been incredibly popular for many decades now.
In the past 12 years, study after study has confirmed that these diets are an effective way to lose weight and improve health. However… food manufacturers have caught up on the trend and brought various low-carb "friendly" processed foods to the market.
This includes highly processed junk foods like the Atkins bars. If you take a look at the ingredients list, you see that there is NO real food in there, just chemicals and highly refined ingredients.
These products can be consumed occasionally without compromising the metabolic adaptation that comes with low-carb eating. But they don't really nourish your body… even though they're technically low-carb, they're still unhealthy.
8. Agave Nectar
Given the known harmful effects of sugar, people have been looking for alternatives. One of the more popular "natural" sweeteners is Agave nectar, also called agave syrup.
You will find this sweetener in all sorts of "health foods," often with attractive claims on the packaging. The problem with Agave is that it is no better than sugar. In fact, it is much, much worse…
One of the main problems with sugar is that it has excessive amounts of fructose, which can cause severe metabolic problems when consumed in excess.
Whereas sugar is about 50% fructose and High Fructose Corn Syrup about 55%, Agave contains even more… up to 70-90%. Therefore, gram for gram, Agave is even worse than regular sugar.
See, "natural" doesn't always equal healthy… and whether Agave should even be considered natural is debatable.
9. Most Processed Breakfast Cereals
The way some breakfast cereals are marketed is a disgrace. Many of them, including those that are marketed towards children, have all sorts of health claims plastered on the box.
This includes misleading things like "whole grain" or "low fat."
But… when you actually look at the ingredients list, you see that it's almost nothing but refined grains, sugar and artificial chemicals. The truth is, if the packaging of a food says that it is healthy, then it probably isn't.
The truly healthy foods are those that don't need any health claims… whole, single ingredient foods.
Real food doesn't even need an ingredients list, because real food IS the ingredient.
10. Gluten-Free Junk Foods
According to a 2013 survey, about a third of people in the U.S. are actively trying to avoid gluten. A lot of experts think this is unnecessary… but the truth is that gluten, especially from modern wheat, can be problematic for a lot of people.
Not surprisingly, the food manufacturers have brought all sorts of gluten-free foods to the market. The problem with these foods, is that they are usually just as bad as their gluten-containing counterparts, if not worse.
These are highly processed foods that are very low in nutrients and often made with refined starches that lead to very rapid spikes in blood sugar.
So… choose foods that are naturally gluten free, like plants and animals, NOT gluten free processed foods.
Gluten-free junk food is still junk food.