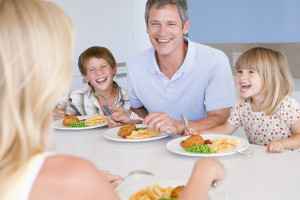 Let's face it. It's not easy to eat well while on vacation. Between the countless temptations, bad influence of our friends and family, and busy schedule we're doomed for failure … UNLESS we have a plan!
Here are 8 strategies to eat healthy on vacation:
1. Bring an emergency pack. I can't emphasize this enough when you travel. You wouldn't forget your toothbrush or extra walking shoes, so add one more thing to your checklist and be prepared and prioritize your emergency life pack accordingly. Over time you will find your favorite version of the life pack, but here's an example of what you could include:
• A small bag of raw almonds, walnuts, or pecans
• A small bag of cut carrots or cucumbers
• A small container of hummus (try Wild Garden single-serve packets)
• A can of wild salmon
• A can of sardines
• A container of chickpeas with olive oil, lemon, salt, and pepper
• A healthy whole-food protein bar
2. Be wary of salad bars. Especially when you're traveling in a relatively undeveloped country, don't eat fruit and vegetables that are not extremely well cooked. Don't touch raw salads, no matter how well washed. Serve-yourself salad and food bars, in any country, are just colorful buffets of bacteria where the food sits out for hours, touched by countless other people.
3. Be very clear about your needs. Asking your server questions before you order can save confusion and frustration once your entrée arrives. Most restaurants are set up to accommodate food sensitivities and special requests, so don't let the menu dictate what you order. Likewise, hosts will usually be very accommodating about special needs for dinner parties. Don't be afraid to speak up.
4. Choose the restaurant when you can. When dining with others, research your options online and suggest a few options to your party. Most people are happy when someone else makes the decision, and choosing puts you in the driver's seat to find healthy options.
Most places have online menus, and even most airports or road stops provide one healthy option. Look for those with high-quality foods like grass-fed beef, wild-caught fish, and organic produce.
5. Request a "crudités platter," fresh fruit, or olives as a starter or appetizer instead of the breadbasket. Bread and alcohol at the beginning of a meal increase your hunger and alcohol decreases your inhibitions, making it more likely that you'll make a play for the cheesecake. Specify a healthier option. Likewise, opt for berries instead of a high-sugar confection for dessert.
6. Be very specific about gluten and dairy. These two slip into even innocuous-sounding dishes like soups. Again, always ask your server. More restaurants now offer gluten-free menus.
7. Make it simple. Ask for a grilled fish or chicken dish with a large plate of vegetables steamed or sautéed in olive oil. Almost any roadside or airport restaurant can do this. Anything glazed, breaded, or otherwise comes drowning in sugary sauce should be a red flag to stay away. If your entrée arrives with a gluten grain or starchy carbohydrate, simply ask for another green vegetable instead.
8. Discover some "slow food" restaurants. These restaurants, where the atmosphere and ambience are soothing to your senses, are popping up more and more in big as well as smaller cities. Many use the highest-quality farm-to-table ingredients they can source.
Our eating environment influences how much we end up consuming. Slowing down and savoring your food helps you better enjoy your meals and also helps you eat less. Airports provide a great opportunity for this if you have several hours before your flight. Slow down, breathe deeply, and enjoy the ambiance.
Check out this video to see how Claudia and I shop for healthy snacks while on the road…