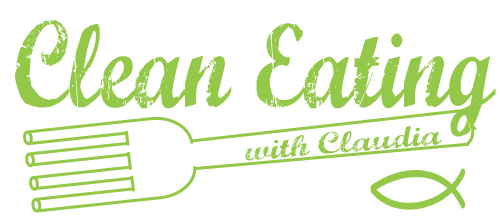 Coconut flour seems to be all the rage these days and for good reason. It's a flour that is made from fresh coconut meat and ground into a fine flour. It's incredibly high in dietary fiber, more than any other flour in fact. It's also gluten free, low in carbohydrate, which in combination with the high fiber content assists with keeping your blood sugar stable and the increased feeling of satiety.
I've been on quite the oatmeal kick these days but had a dream one night of light and fluffy blueberry pancakes (thank you pregnancy brain) and when I awoke the next day, I had to have some. Now as much as I would love to drive to my local Ihop for a fat stack of pancakes but take a look at what it'll set me back as far as nutritional content:
Directly from Ihops website for Blueberry Pancakes for a stack of 4
Calories 690
Calories from Fat 150
Total Fat (g) 17
Saturated Fat (g) 5
Trans Fat (g) 1
Cholesterol (mg) 80
Sodium (mg) 2110
Carbohydrate (g) 118
Fiber (g) 8
Sugar (g) 37
Protein (g) 18
Talk about spiked blood sugar and needing a nap afterward. No thanks! Not to mention you'll probably be hungry an hour later. So here are the ingredients you'll need for delicious coconut flour blueberry pancakes:
1/4 cup coconut flour
1/2 cup milk of your choice (I used my flax milk)
2 large eggs
1/2 tablespoon of honey or maple syrup
1/2 tsp pure vanilla extract
1/4 tsp baking soda
pinch of salt
Blueberries are not currently in season so I used 3 tablespoons of frozen blueberries.
Preparation:
Place your pan or griddle on a medium low heat and spray with a generous amount of a non stick cooking spray.
In a bowl, combine the dry ingredients first and mix. To the dry ingredients add the wet (milk, eggs, honey, & vanilla) and whisk until all of the lumps in the batter are gone. Now mix in your blueberries and stir gently.
I use a large spoon and take about 2 tablespoons of the batter to create large medallion sized pancakes. Allow to cook for about 1-2 minutes on each side or until cooked all the way through the middle.
This will yield about 8 pancakes! Perfect for a single serve size or for your kiddos however this recipe can easily be doubled or tripled!
I topped my pancakes with full fat Greek yogurt (plain) that I sweetened with about 3/4 of a tablespoon of maple syrup and topped it with crushed walnuts for some brain boosting omega-3's. Top yours however you'd like or even switch up your fruit and use diced apples, strawberries or raspberries. I even made these for my nephews when they were visiting and they totally loved them. Bon apetit!!!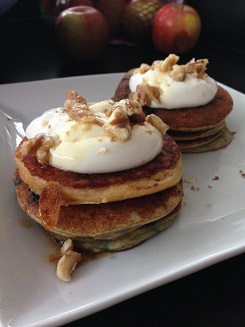 Nutrition Facts
1 Serving = the entire stack of medallions (does not include toppings)
Amount Per Serving
Calories 302
Total Fat 15 g
Saturated Fat 7 g
Polyunsaturated Fat 4 g
Monounsaturated Fat 3 g
Cholesterol 372 mg
Sodium 557 mg
Potassium 162 mg
Total Carbohydrate 22 g
Dietary Fiber 11 g
Sugars 6 g
Protein 17 g