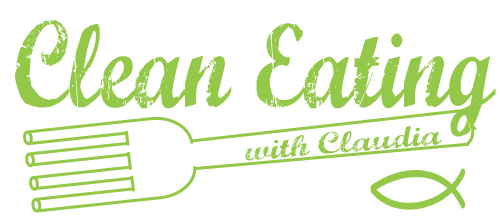 For a couple of weeks now, eggs have been my go-to breakfast. Now that I feel that I've mastered the sunny side up egg, I love making it because it's so easy and I love the health benefits that eating eggs bring such as protein and omega-3 fatty acids. Eggs are also high in sulfur, an essential nutrient that helps with everything from vitamin B absorption to liver function. But sulfur is also necessary for the production of collagen and keratin, which help create and maintain shiny hair, strong nails and glowing skin.
So to make this healthy egg recipe you will need a skillet, non-stick cooking spray or coconut oil, and of course eggs. By solely using non-stick cooking spray, not oil and butter in the traditional method of cooking sunny side up eggs, we're cutting calories and saturated fat!
I begin by heating up the skillet on a medium high heat and spray with the non-stick cooking spray. 
To begin, break the egg into the hot skillet (if it begins to bubble, lower the heat).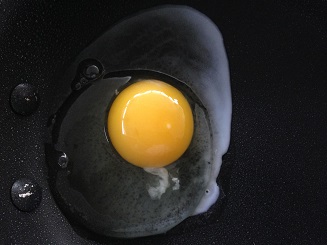 After about 1 minute, I reduce the heat to a medium low and cover my egg as to allow the moisture to cook the egg. I do not put any salt or pepper on the egg as to not remove any moisture during the cooking process.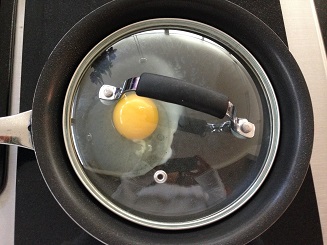 I then allow the egg to cook for 5-6 minutes on the low heat, still covered until the desired consistency is reached. I check the egg my slowly rotating the pan and if the egg white is no longer runny, I remove my egg from the heat. I then sprinkle pepper on top and of course salt is optional but I usually skip it.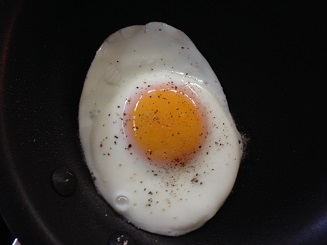 And it's just that easy! I like to enjoy my "fried" egg on a piece of sprouted grain toast with a smear of cottage cheese or avocado and a thin bed of spinach.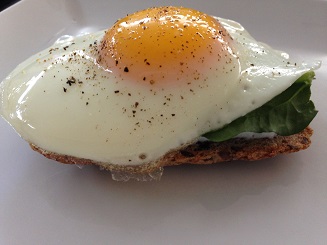 I'll even pair it with a side of fruit or half a cup of Greek yogurt for my morning probiotics and more protein!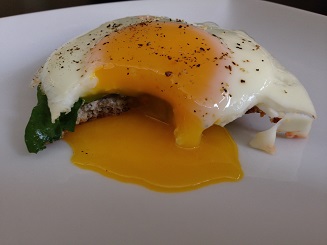 Nutrition Facts for the picture above (cottage cheese)
1 Serving
Amount Per Serving
Calories 176.0
Total Fat 5.2 g
Saturated Fat 1.3 g
Polyunsaturated Fat 1.0 g
Monounsaturated Fat 2.1 g
Total Carbohydrate 16.8 g
Dietary Fiber 3.2 g
Sugars 2.1 g
Protein 13.6 g