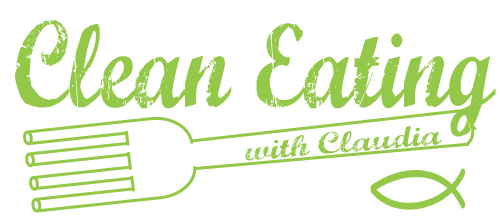 I recall back in my not so fit days that when I'd sometimes order pizza, I'd usually always have leftovers. Those were obviously my pre Coach Kozak days because I never have leftovers now however back then, my takeout pizza was always a tasty breakfast treat, totally healthy I know. So I had a thought recently, why don't we just take our favorite healthy breakfast foods and put them in pizza form!?
Here we have for you an incredibly tasty and healthy breakfast pizza! Best part is that you can totally have fun with your toppings and get the kiddos involved. Here are the ingredients you'll need for my version of breakfast pizza:
1 sprouted grain tortilla or tortilla/wrap of your choice
1 egg + 1 egg white (can be omitted by my vegan friends)
2 chopped breakfast turkey patties (can be omitted by my vegan friends)
1/2 cup spinach
1/4 cup button mushrooms
3 tbsp shredded pepper jack cheese
2 tbsp sliced onion
1.5 tbsp pasta sauce of your choice
Preparation
Preheat your oven to 450 degrees and once heated, place your tortilla in the oven for 3-4 minutes allowing it to crisp on the edges. Remove.
Next you'll place your pasta sauce (I used a pesto) and layer your spinach on top of your sauce. Next, I already precooked my eggs and turkey patties and you'll layer the eggs followed by your additional protein should you choose. You'll then lastly add your mushrooms and onions followed by a few sprinkles of cheese. Bake for 10-12 minutes…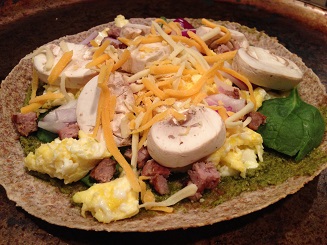 Once your pizza is ready, the cheese will be melted and bubbly! Now I used a vegan cheese so it doesn't quite melt the way dairy cheese does or at least this particular brand didn't but I must say, this breakfast pizza is great anytime of the day!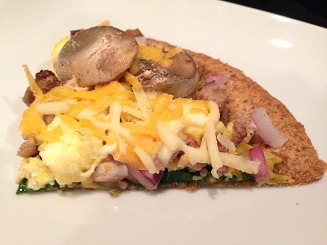 Nutrition Facts reflect usage of large tortilla. Adjust accordingly if utilizing taco sized tortillas.
1 Serving
Amount Per Serving
Calories 447
Total Fat 21.0 g
Saturated Fat 5.1 g
Polyunsaturated Fat 1.3 g
Monounsaturated Fat 2.6 g
Total Carbohydrate 30.6 g
Dietary Fiber 6.4 g
Sugars 2.6 g
Protein 33.0 g