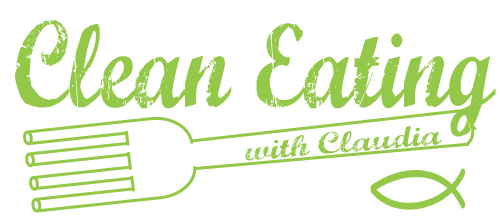 Who'd a thought making a super thick smoothie would taste so much better eating it with a spoon?! Sometimes I like to trick myself into thinking I'm eating a creamy Frosty from Wendy's minus the sugar, calories, and bloat.
This smoothie bowl is going to provide you with the protein, fiber, omega-3's, and vitamins you need to start your day off on the right foot or even just as a mid afternoon snack!
What you'll need for your healthy green smoothie bowl:
½ frozen banana
½ cup Greek yogurt
¼ cup milk of your choice (I used unsweetened almond milk)
1 tbsp chia seeds
¼ tsp vanilla extract
Handful of spinach (about 1 cup)
Scoop of vanilla protein powder
Stevia to taste if desired
3-4 ice cubes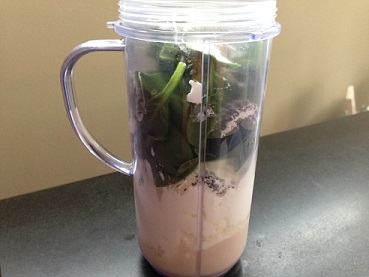 Using a high powdered blender or even food processor, blend until well combined. Mixture will be thick and top with chopped walnuts or almonds, goji berries or any other dried berry your heart desires and shredded coconut! Best of all, this recipe can be doubled or even tripled to serve more people because let's face it….they're all going to want their own. 🙂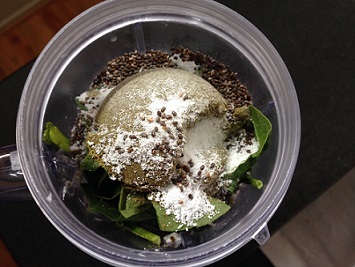 YUM!!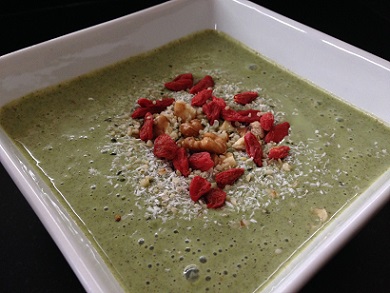 Amount Per Serving
Calories 300.2
Total Fat 7.9 g
Saturated Fat 0.6 g
Polyunsaturated Fat 0.8 g
Monounsaturated Fat 0.0 g
Total Carbohydrate 34.0 g
Dietary Fiber 12.5 g
Sugars 13.2 g
Protein 26.1 g