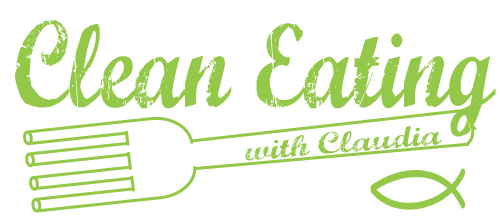 Rolled oats are a food that I always have available in my kitchen. I bake with them, add it to smoothies, and most often eat a bowl for a hearty fiber packed breakfast. Oats have a trace amount of gluten which is caused mostly by cross contamination with wheat either out in the field or during packaging if processed in a facility that also handles wheat, barley, and rye. You can however, like myself, purchase gluten free oats. I buy mine at Trader Joe's but I've also seen them at my regular grocery store. Rolled Oats are fantastic for a myriad of reasons as evidenced below and I encourage you to experiment with flavors and add-ins and you'll become a lover of oats just like me!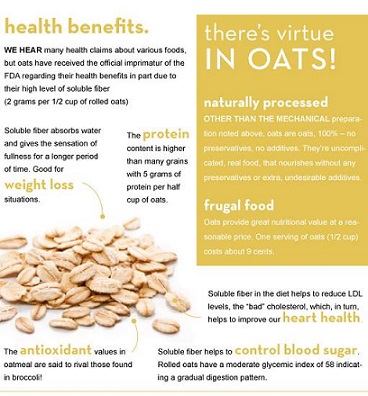 Now, because I exercise often and to up the nutrition profile of my morning bowl of oats, I add in some protein. Oats naturally have 5g of protein per 1/2 cup but I up the ante and this is completely optional. I'm going to go through my morning routine and show you how I make my protein rolled oats on the stove in less than 5 minutes. Now this is my "recipe" so to speak but you can add whatever you want!
I heat my stove to a medium high and in a saucepan add 1/2 a cup of rolled oats along with 1 cup of liquid, I use 1/2 cup water with 1/2 cup (flax) milk. Next I add my add-ins, so here is 1/2 of a scoop of vanilla protein powder, 1/2 tbsp of chia seeds, 1/4 tsp ground cinnamon, and 1/4 tsp of pure vanilla extract.
**Note: if using a full scoop of protein, add about 1/4 cup of additional liquid to prevent it from becoming too thick! Unless that is, you like it that way.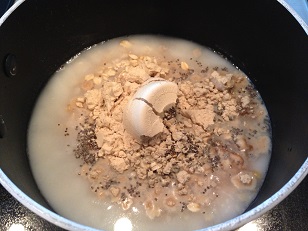 Once you put in your ingredients, stir, stir, stir until everything is well combined.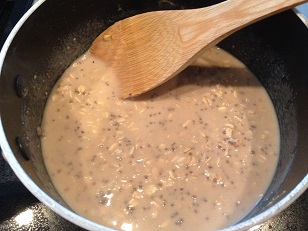 If you need or prefer a bit more sweetness feel free to throw in a bit of stevia or maple syrup. After about 2 minutes or so your oats may be bubbling a bit however don't bring it to a full boil. I allow mine to come to a low boil for about 2 minutes before removing it from the heat.
Once bubbling for about 2-3 minutes, remove your oats from the heat and pour into a bowl. Because I used chia seeds, the seeds have expanded and have absorbed some of the liquid.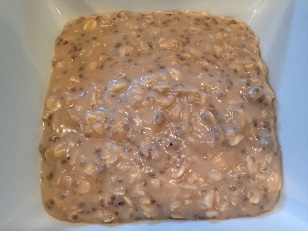 Now comes the fun part! Add whatever you want on top of your oats. I added 1/2 of a banana that I've sliced, 1/2 of tablespoon of almond butter, chopped walnuts,  about a tablespoon of hemp seeds, and a sprinkling of shredded coconut. Breakfast full of fiber, protein, and healthy fats is served! Talk about staying energized through the morning.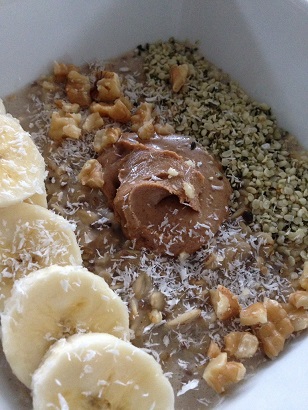 Nutrition Facts for photographed oatmeal to include add-ins!
1 Serving
Amount Per Serving
Calories 370
Total Fat 15 g
Saturated Fat 2 g
Polyunsaturated Fat 3 g
Monounsaturated Fat 3.5 g
Total Carbohydrate 43 g
Dietary Fiber 9 g
Sugars 6 g
Protein 19 g