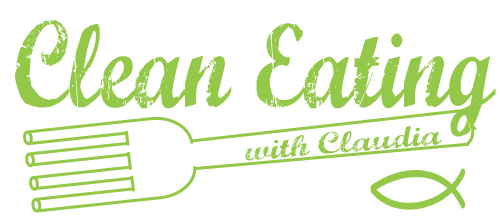 Coach Kozak and I participated in one of my favorite past times yesterday…..going to Sprouts Farmer's Market! Now I know what you're thinking, "who likes going to the grocery store?!", but I have to drive 30 minutes to get to one and they sell things I can't always get at my regular grocery store and they're cheaper than Whole Foods.
I really went because I needed some fresh produce and I really wanted to check out the one in Houston as I haven't been to Sprouts since we moved. Upon walking in, they had a glorious display of organic fruits and veggies and I was immediately drawn to the raspberries!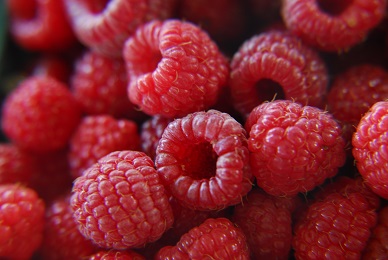 You may or may not know this but raspberries are a powerful and mighty berry! They're composed of 85% water and because of their fiber content, are great for people who are trying to manage Type 2 Diabetes, lose weight, and lower their cholesterol. In addition, raspberries are FULL of antioxidants as well as Vitamin C which help combat arthritis, age-related memory loss, and will help you maintain healthy skin and hair. Just one cup of raspberries holds 44% of your RDV of vitamin C, has 7g of fiber and is 52 calories. BOOM!
I enjoy switching up my breakfast. In fact, so much so, I think about what I'll be making for breakfast before my feet even hit the floor. I literally dream about food. So today as a sweet side with my scrambled egg and flax toast, I made a deliciously delightful Raspberry Lemon Fruit Salad. Isn't it pretty?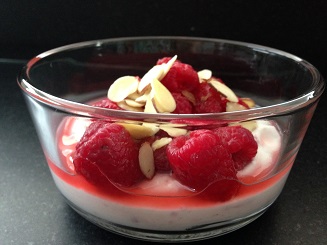 Here are the ingredients you'll need for your healthy raspberry breakfast:
1/2 cup yogurt of your choice (I used plain Greek yogurt)
1/2 cup fresh organic raspberries
1/2 tbsp fresh lemon juice
1 1/2 tsp natural raspberry jam
1 tsp honey
1 tsp fresh mint (I didn't have any today but this recipe is begging for it! :-))
1/2 tsp lemon zest
Sliced almonds for garnish
In a bowl, mix together the plain yogurt and raspberry jam and set aside. Please select jams and jelly's with NO ADDED SUGAR when possible.
Next, mix together the fresh raspberries, fresh lemon juice, lemon zest, honey, & mint.
You'll then top the yogurt mixture with the raspberry mixture and top it with whatever garnish you'd like. I used sliced almonds.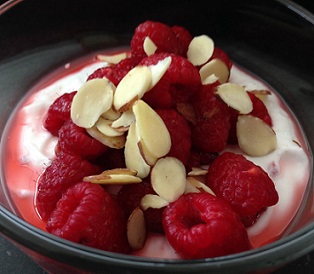 Now of course I used my organic Greek yogurt but this can easily be made vegan/dairy free if you substitute the yogurt with a coconut yogurt or any other dairy free yogurt.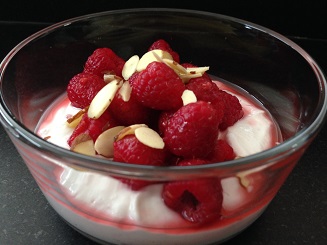 I loved this for breakfast because it's fresh, full of healthy antioxidants and fiber, and just plain delicious.
Nutrition Facts
1 Serving
Amount Per Serving
Calories 152
Total Fat 0.3 g
Saturated Fat 0.0 g
Polyunsaturated Fat 0.2 g
Monounsaturated Fat 0.0 g
Total Carbohydrate 25 g
Dietary Fiber 4 g
Sugars 11 g
Protein 12 g