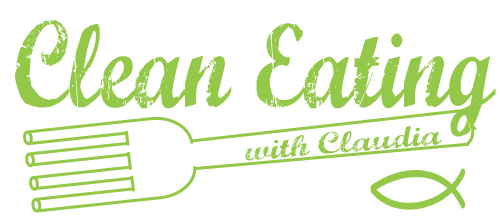 It's summer time and with so many BBQs and get together's coming up, it's hard to avoid the dessert table. Between the ice cream, cupcakes, and cookies…dessert is everywhere! In my family it's pretty customary to swing by a grocery store and pick up a pound cake, berries, and cool whip. It's a simple and delicious dessert but the more aware I become of what I put in my body the less delicious it is.
Did you know that the Sara Lee All Butter Pound Cake contains High Fructose Corn Syrup? And at 300 calories per slice you also get 35g of carbs, no fiber, and 20g of sugar. It's a nutrient desert!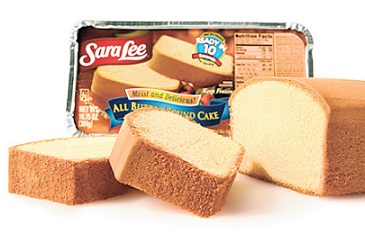 Here's the ingredient list directly from their website…just so you know:
Eggs, enriched bleached flour (wheat flour, niacin, iron, thiamin mononitrate, riboflavin, folic acid), sugar, butter (cream, salt), high fructose corn syrup, mono- and diglycerides. Contains 2% or less of each of the following: water, leavening (sodium acid pyrophosphate, baking soda, monocalcium phosphate), corn starch, salt, milk protein concentrate, modified corn starch, guar gum, xanthan gum, sodium stearoyl lactylate, vanillin (artificial flavor), annatto (color), soy flour.
Sounds appetizing doesn't it? Now while I know it's easy to run into the store and grab it off the shelves, it's much cleaner and definitely more nutritious if you do it yourself. Pound cake is the perfect dessert to make ahead and freeze it days before or even refrigerate it a day before party time. Best of all, we only need 7 simple ingredients.
Here's what you'll need for your gluten free pound cake recipe:
2 cups almond flour
3/4 cup Stevia in the Raw (measures like sugar) or Coconut Sugar
1/2 cup coconut oil (you can also use butter)
1/2 cup plain Greek yogurt (I used non fat so any will work)
5 eggs with 2 separated
2 tsp pure vanilla extract
1 tsp baking powder
First, I laid out my oil, Greek yogurt, and eggs for about an hour to allow them to come to room temperature. When ready to begin, preheat your oven to 350 degrees.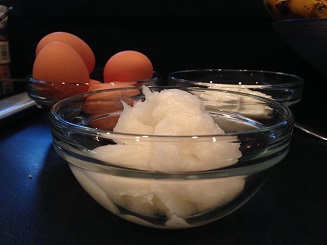 Once that was achieved, with a hand mixer blend the stevia and coconut oil for approximately 2 minutes on medium speed.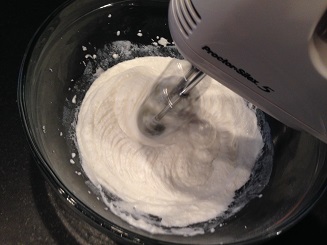 I then added in the Greek yogurt and continued mixing for another 2 minutes. Because pound cake needs to be light and airy, this recipe calls for a lot of mixing.
Next in a separate bowl whisk together the almond flour and baking powder. Set aside.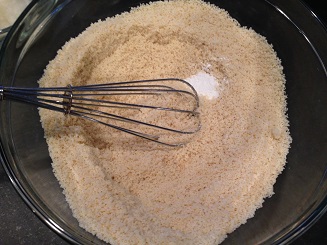 Moving back to the mixing now add in 3 eggs ONE BY ONE and mix, mix, mix! By now, your batter may appear to have a curdled milk appearance as opposed to smooth but that's the coconut oil. It's ok, keep mixing! The last 2 eggs just add in the yolks and leave the egg whites in a separate bowl remembering to add the yolks one at a time. This process is the longest and you'll be mixing for about 5-6 minutes.
Moving to the egg white bowl, mix for about 4 minutes until soft peaks are achieving.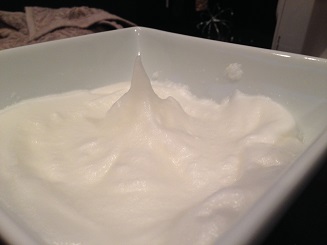 You'll next fold the peaks into the egg mixure…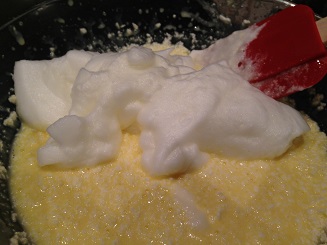 Once you've folded in the egg whites you'll now begin to add the flour into the wet mixture bowl. Add in your flour 1/4 of a time and continuing to mix throughout the process. Your batter will begin to smooth out! Lastly, add in the vanilla extract and continue mixing for 1-2 additional minutes.
Take a loaf pan and line with parchment paper and spray with a non-stick cooking spray.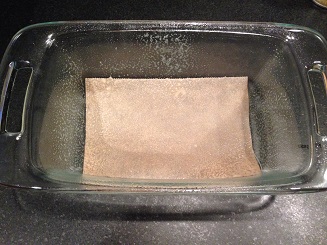 and add in your batter. You'll place it in the oven for 45-50 minutes or until it passes the tooth pick test.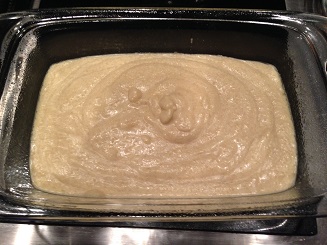 When your pound cake is done it'll be a beautiful golden brown color…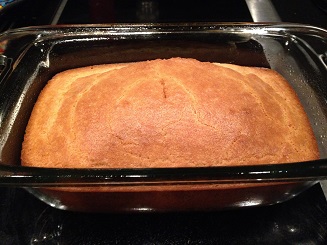 and because we used parchment paper it'll come out of the loaf pan so easily!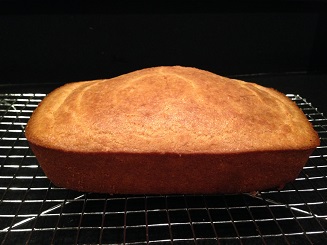 The house smelled so incredibly good that I couldn't wait to slice into this beauty and taste it! Isn't it gorgeous?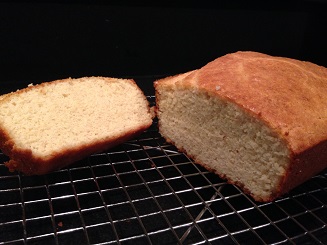 Now here come all the pictures because I just couldn't stop 🙂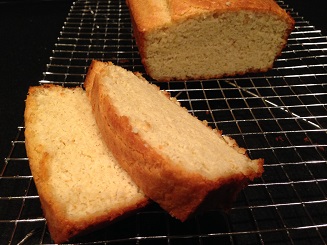 SO PRETTY….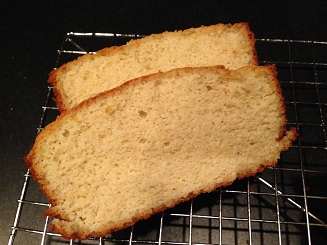 For my topping, I took a handful of organic blueberries and a couple of organic strawberries and dusted them with coconut sugar. When you mix it and allow it to sit, the natural juices from the fruit is released.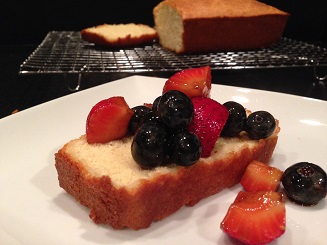 This homemade vanilla pound cake is lower in calories, offers wonderful healthy fats from the flour and coconut oil. It's also low carb, low glycemic, and high in protein!! It's totally worth the calories and is a hands down healthier choice! Make this soon and tell me what you think! 😉
Nutrition Facts
12 Servings
Amount Per Serving
Calories 224
Total Fat 21 g
Saturated Fat 9 g
Polyunsaturated Fat 1 g
Monounsaturated Fat 1 g
Total Carbohydrate 5 g
Dietary Fiber 2 g
Sugars 1 g
Protein 7 g