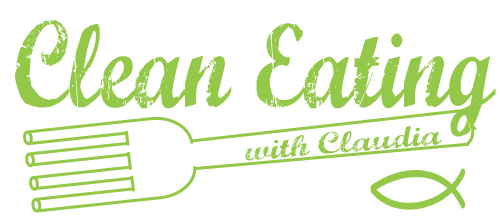 I recently picked up some wild caught cod fish on my recent outing to Trader Joe's because ya know, I just went to pick up some gluten free rolled oats….$50 later. :-/
Anyway, unseasoned and basically a blank canvas waiting to be a masterpiece I thought I'd bake them up. I always have 3-4 different flours on hand in my refrigerator at all times and opposed to buying prepackaged bread crumbs to crust the fish, I thought I'd make my own. So I made Almond and Flax Crusted Cod fillets and baked them in the oven!
While salmon usually rules in this house, cod is another great alternate fish to throw into your diet for the following reasons:
Cod is a another great source of omega-3 fatty acids which are beneficial on blood-lipid levels.
The selenium, vitamin D, and omega-3 fats found in cod have anti-inflammatory actions that reduce the inflammation that leads to asthma attacks, rheumatoid arthritis, osteoarthritis, and migraines.
B12- A 3 ounce serving has 1.96 micrograms, which gives you 81 percent of the recommended daily intake. Vitamin B-12 is essential for the normal development of red blood cells and hemoglobin, and it keeps your nerves working properly. It may also keep your heart healthy by removing the amino acid homocysteine from the blood; high levels of homocysteine are associated with cardiovascular disease.
Cold water fish, like cod, have been shown to be a protein rich food, very beneficial for people looking to support cardiovascular health.
Alright, so lets get to the good stuff! Here's what you'll need for your healthy baked cod fish:
1 lb wild caught cod fillets
1/2 cup almond flour
2 tbsp ground flax seed
1 tsp garlic powder
1 tsp dried parsley
1/4 tsp cayenne pepper
1/4 tsp of salt and pepper
1 egg
1 tsp of melted coconut oil (optional)
Preheat your oven to 425 degrees. In a bowl, combine all of your dry ingredients and mix completely. In a separate bowl, prepare your egg wash by whisking your egg and melted coconut oil.
Next, if not already done so, cut your cod fillets into about 4 ounce fillets to make them about even in size. Dredge your fillets through the egg wash and place them into your bowl with the almond flour mixture. Coat every side of the cod fillet with the flour mixture and place the coated fillet on a foil or parchment paper lined baking sheet. Repeat the process until all fillets are done.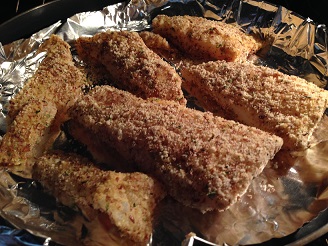 Bake for 10-12 minutes or until fish easily flakes…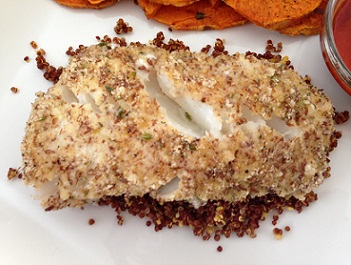 This is Coach Kozak's plate and served it with leftover quinoa I had and also made Coach's sweet potato fries for a healthier play on Fish 'n chips!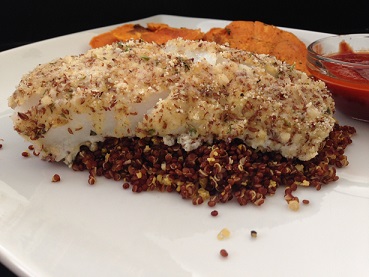 Leave those highly processed and highly salted bread crumbs on the shelves and make your own! It's so easy and so much more better for your body.
Nutrition Facts
6 Servings
Amount Per Serving
Calories 137.0
Total Fat 8.9 g
Saturated Fat 1.2 g
Polyunsaturated Fat 0.4 g
Monounsaturated Fat 0.0 g
Total Carbohydrate 3.2 g
Dietary Fiber 1.7 g
Sugars 0.5 g
Protein 13.0 g