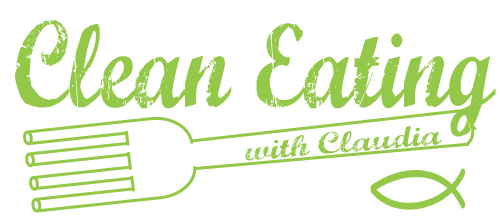 I grew up frequenting Mexican restaurants and at home rice, beans, and picadillo (minced meat) were staples in my diet. Oh and don't forget the flour tortillas! Needless to say, Latinos are not known for being naturally fit. Since my eating habits have dramatically changed since then I'm having to be more creative when it comes to enjoying some of my favorite Tex-Mex dishes.
If you caught my parents and me on a Sunday after church we were probably at a Tex-Mex restaurant. My favorite was always the enchiladas. Didn't matter if it was chicken or beef nor if it was sour cream sauce or the red chile sauce, I was all over it!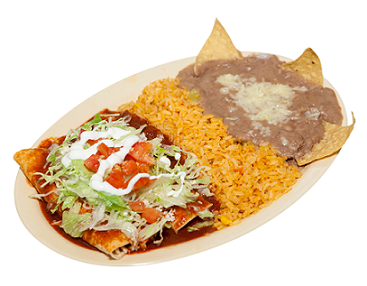 Did you know that a beef enchilada plate could set you back about 1,100 calories? Or that it can pack 2800 mg of sodium, 66 g of total fat, and 115 g of carbohydrates?? Ugh!
One night I'd had a pound of lean ground beef thawed and decided I was in the mood for enchiladas. My fridge is always stocked with these ingredient items listed below so I knew I could pull it off. Here's what you'll need for healthy beef enchilada recipe:
1 lb lean ground beef (grass fed if possible)
8 high fiber tortillas (I used La Tortilla Factory brand)
1 10oz can of diced tomatoes (I used Rotel)
1 cup chopped spinach
1/4 cup chopped onions
1 clove of garlic minced
1/2 cup organic Mexican blend shredded cheese
1 tsp coconut oil
1 tsp dried oregano
1/2 tsp cumin
1/4 tsp chili powder
salt and pepper to taste
Preparation: On medium high heat, in a medium sauce pan add the coconut oil and allow it to melt and cover the bottom of the pan. To the pan add the chopped onions and cook for about 2 minutes.
Next add in the garlic and cook for about 30 seconds or just until fragrant. Next add in the beef and brown it. While the beef is browning add in the seasonings and mix. Once the meat is browned, add in your spinach and cook until just wilted. Remove the pan from the heat.
To warm your tortillas and make them pliable heat them in a skillet or directly on the stove (if you're careful) on a medium low heat. Fill the tortilla with about 1/4 cup of picadillo meat and arrange on one side of the tortilla. Roll the tortilla tightly and place in an 8X8 casserole dish and continue until all the meat is gone.
Once in the casserole dish, spoon the diced tomatoes on top evenly over all of your rolled enchiladas and top with cheese. Bake at 350 degrees uncovered for about 15 minutes or just until cheese is melted.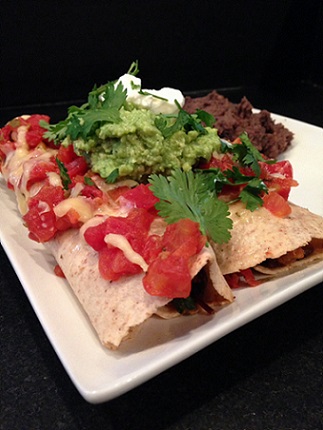 As you may notice I topped my enchiladas with homemade guacamole, a dollop of plain Greek yogurt, and cilantro. I also added 1/2 cup of refried black beans on the side, no rice. 🙂 I totally love making these enchiladas because it definitely takes care of my craving. If you guys don't like beef, use ground turkey or even ground chicken whatever it is that you like, just remember to have fun in the kitchen!
Nutrition Facts
4 Servings
Amount Per Serving = 2 enchiladas
Calories 352
Total Fat 15 g
Saturated Fat 5 g
Cholesterol 72 mg
Sodium 773 mg
Potassium 260 mg
Total Carbohydrate 24 g
Dietary Fiber 15 g
Sugars 1 g
Protein 39 g