I'm going to make this blog post short and DELICIOUS seeing as I have a sleeping baby who at any moment will awaken and require my undivided attention.
Last night I made a regular dish that's been in rotation for quite some time and I cannot take the credit for this concoction. It's a recipe by Sunny Anderson of the Food Network but I make modifications of my own to bring down the fat and calories. It's a Tator Tot Pie made with sauteed vegetables, cheese, and ground meat of your choice! For the sake of this recipe, I'm using lean ground turkey because that's what I used last night.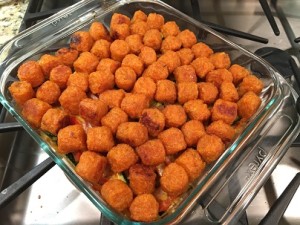 So here are the ingredients you'll need for this crowd pleasing, healthified Sweet Potato Tater Tot Pie:
1 20 oz bag of sweet potato puffs (I use this brand)
1 pound of ground turkey (I used 90%)
2 TBS oil
2 tsp Worcestershire sauce
1/2 tsp paprika
2 TBS tomato paste
1/2 cup water
1/2 cup chopped onion
1 medium zucchini cut into large strips
1 red bell pepper also cut into strips
2 carrots peeled and grated
8 ounces of shredded low fat monterrey jack or cheddar cheese
FIRST! COOK YOUR TOTS ACCORDING TO PACKAGE INSTRUCTIONS AND SET ASIDE **Do not top the pie with frozen tots**
Next, preheat the oven to 375 degrees F.
1. In a large pan on medium-high heat, add the oil. Once your pan is HOT, add the turkey, Worcestershire sauce, paprika, a pinch of salt and a few grinds of pepper. Cook until the meat is browned.
2. Stir in the tomato paste and saute for a few minutes to intensify the flavor. Add the water and bring to a simmer. Season again and remove the mixture to a bowl with a slotted spoon, leaving the turkey juices in the pan.
3. In the same pan, add the onions and cook until almost tender. Then add the carrots, zucchini, bell peppers, a pinch of salt and a few grinds of pepper. Cook, tossing, until the vegetables are tender but still a bit crunchy, about 6 to 8 minutes. Remove from the heat.
4. In the bottom of an 8X8 casserole dish in this order, layer half of the turkey, pressing it down to level it, and then sprinkle half of the cheese evenly over the meat. Pour the remaining half of the turkey over the cheese and press down to level as well. Add the vegetables, followed by the remaining cheese; press to level. Top with the tater and bake until the edges on the tots turn golden brown, 25 minutes.
Modified from this recipe!
There you have it folks! This is a tasty recipe that Coach Kozak absolutely demolishes anytime I make it. Protein, complex carbs, and veggies…what more could you ask for?!