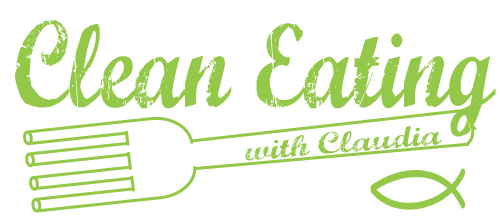 My brother is in town and is currently staying with us. We're documenting his stay with us as he's learning to be more healthy and is wanting to make a change. One of his assignments while he's here is to learn how to cook for himself and I'm not talking fried turkey. I want him to know that delicious food is easy to make and not that hard, it just takes a little effort. He's got plenty of diet restrictions having to be on a renal/diabetic diet but I won't let that stop us from eating flavorful food.
Our first dish to take on together is stuffed bell pepper but with a Mexican twist. I wanted to use ingredients and flavors that my brother is most familiar with and used to eating. You'll have to excuse the serrano chiles in this dish and just completely omit them or substitute them with a less spicy pepper.
Here's what you'll need for your healthy stuffed bell pepper:
1 pound cooked lean ground turkey or chicken
3 organic green bell peppers
1/2 cup salsa of your choice (we used a tomatillo salsa)
1/2 cup onion
1/2 cup cooked quinoa
1/4 cup chopped cilantro
1-2 jalapenos (chopped and deseeded)
1 flax egg (1 tbsp of flax & 3 tbsp of water) or egg
1/2 teaspoon black pepper
1/2 teaspoon garlic powder
1/4 tsp cumin
Sprinkle of shredded cheese on top (optional)
Preheat oven to 350 degrees Fahrenheit. Prepare peppers for stuffing by removing stems, membrane & slicing in half lengthwise.
Blend together the quinoa, turkey or chicken, flax egg, 1/2 cup salsa, herbs and spices. For the herbs and spices, I blended them together in the food processor before adding them to the cooked ground chicken.
Evenly divide meat mixture into six portions & stuff pepper halves and sprinkle a bit of cheese on top. Place in a baking dish sprayed with non-stick cooking spray.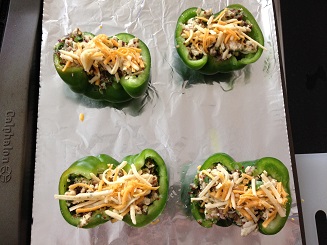 Add 2 tablespoons water to bottom of baking dish. Bake covered for 45 minutes or until cheese on top melts. Allow to slightly cool and serve.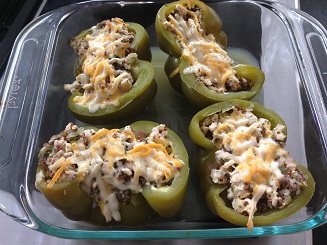 Nutrition Facts
6 Servings
Amount Per Serving
Calories 225.1
Total Fat 9.7 g
Saturated Fat 2.0 g
Polyunsaturated Fat 0.4 g
Monounsaturated Fat 0.3 g
Total Carbohydrate 16.7 g
Dietary Fiber 2.6 g
Sugars 1.5 g
Protein 17.4 g