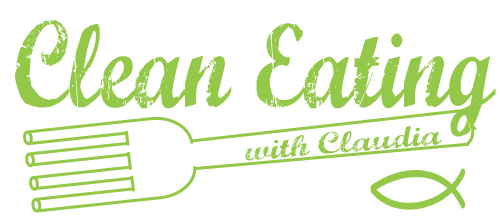 Who does not love Lasagna?? I for one love it and have really fond memories of my mom making it as a little girl. The noodles, the cheese, the BEEF! Now let's be real with one another, we all normally have more than one slice and load up on the cheese so we generally don't think of lasagna as being healthy. This recipe I have for you is lightened up, packed with protein, and even has veggies in it! This is perfect after a busy day because from start to finish it is only 30 minutes to prepare.
We'll be using ground lean turkey breast to bring down some of the fat and calories as well as adding in some super nutritious kale and squash. Who doesn't love the opportunity to sneak in some greens? I even made this for my visiting nephews once and they gobbled it up. Best part is, no need to get the oven involved as this is a one skillet meal except for the fact that you'll just need to boil the lasagna noodles in a separate pot. Ok, so technically it's 2 but who cares, it's fantastically delicious.
Here is what you'll need for your protein packed turkey lasagna (choose organic when possible):
1 lb lean ground turkey
7 lasagna noodles (about 1/2 a box)
1 jar of low sodium pasta sauce
1 cup chopped kale
1/3 cup small chopped zucchini
1/2 cup cottage cheese
1/2 cup finely shredded Italian cheese blend
2 tbsp grated Parmesan cheese
1 tsp dried basil
1/2 tsp dried parsley
pinch of red pepper flakes (optional)
Preparation: Start by boiling your lasagna noodles according to package instructions. To prevent over cooking, reduce cooking time by about 2 minutes. These are the noodles I used….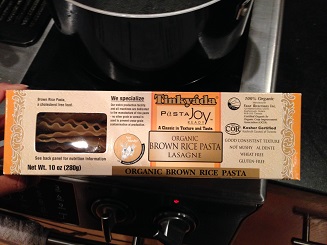 While the noodles are cooking, heat a skillet over medium heat and add oil to coat the bottom of the pan, I always use coconut oil but any healthful oil will work. Add the turkey to the hot skillet and cook until browned. Once the turkey is browned, add in the basil, parsley, red pepper flakes and combine.
To the seasoned and browned turkey, add the entire jar of pasta sauce to the skillet. Add a bit of water if the turkey and sauce is thick just to thin it out a little bit.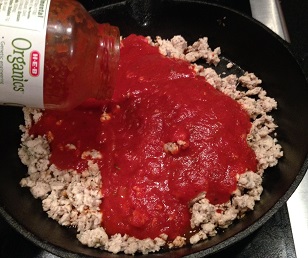 Allow the sauce and turkey to simmer for about 2 minutes on a medium/low heat and add in the chopped kale and zucchini. Continue simmering for an additional 5 minutes to allow the kale and zucchini to soften.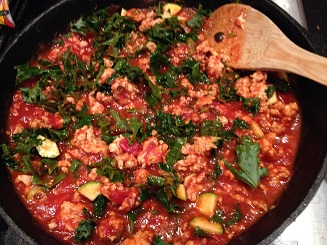 After the veggies have softened and the kale has wilted, add in the cottage cheese and grated Parmesan cheese and mix in completely to the turkey. While that simmers away, drain your cooked noodles and chop each lasagna piece into 1/4's like so….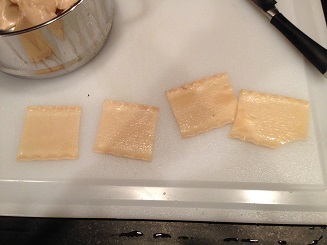 Once cut into pieces, add the noodles to the top of the turkey sauce…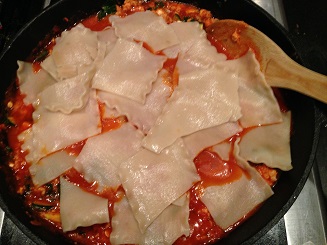 Last step before you're done, fold in the noodles gently to the turkey sauce and top with finely shredded Italian blend cheese or any cheese of your choice.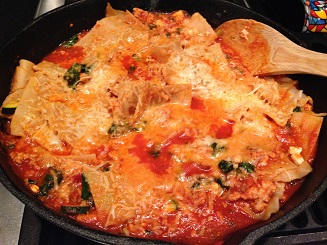 Next, serve it up and devour! I paired our skillet lasagna with a fresh cucumber and tomato salad with balsamic vinegar and a bit of olive oil but a great big green salad works just as well. You can never consume too many veggies. 🙂
I totally love this recipe because it comes in at less than 400 calories per serving and each of those servings boasts 27 grams of lean muscle building protein. It's even better the next day so pack it up for lunch. I hope you enjoy this recipe as much as the Kozaks do.
Nutrition Facts
6 Servings
Amount Per Serving
Calories 329
Total Fat 7g
Saturated Fat 2.4 g
Polyunsaturated Fat 0.1 g
Monounsaturated Fat 0.2 g
Total Carbohydrate 39g
Dietary Fiber 3g
Sugars 7g
Protein 27g