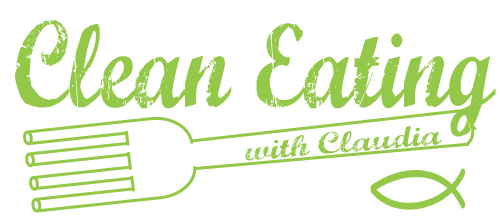 Coach Kozak and I like to go vegan a few meals out of the week. Not for any particular reason other than it makes us feel better about going animal protein free. One morning while working and watching Bloomberg, we watched an interview with the CEO of Beyond Meat, Ethan Brown. I immediately visited their website and particularly enjoyed their mission statement which states they "aim to improve human health, positively impacting climate change, conserving natural resources and respecting animal welfare."
Beyond Meat currently offers chicken-free chicken strips and beefy crumbles. Their chicken-free strips come pre-seasoned in lightly seasoned strips, grilled strips, and southwest strips. Beefy crumbles are offered in regular flavor and feisty crumbles that adds more of a spicy kick. I love the product because one serving (6 strips/3oz) of the chicken-free strips offers of 120 calories and 20g of protein! In addition, they're low carb. The beefy crumbles, for 1/2 cup serving you get 90 calories and 10g of protein and in all honesty, this product tastes like the real thing! The source of protein comes from non-GMO soy protein and pea protein isolate. The beef and chicken flavor comes from a unique blend of spices making you believe that you're actually eating the real thing. We love Beyond Meat in this household but have had a hard time finding the beefy crumbles anywhere! Most beef substitutes are full of gluten and GMO soy, so I'm holding out hope I'll get my hands on some soon.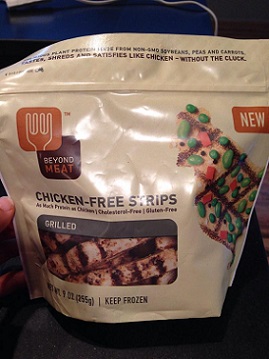 Since by red meat loving brother has been staying with us, I've been doing my best to introduce him to whole foods and slowly showing him a vegan/vegetarian diet. For lunch yesterday I decided to take my chicken-free strips and make him a chicken salad. He was skeptical but open to it.
So I took the "meat" and heated it up according the to package recommendations; in the skillet.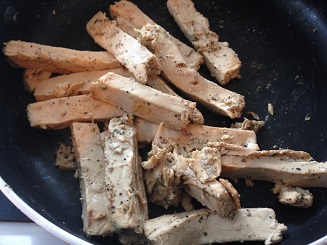 While that worked up I chopped 2 stalks of celery, finely chopped 3/4 cup of baby carrots in the food processor along with 1/2 a small onion, and chopped up some fresh parsley. Once the chicken was heated, I placed the chicken in the food processor to get it to the shredded chicken consistency.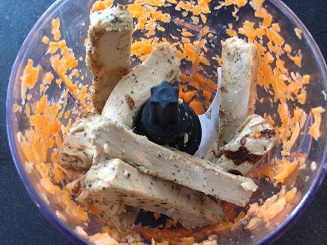 Once pulsed for about 8-10 seconds, I added it to the vegetable bowl and blended it all together.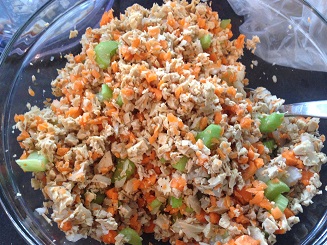 Since the strips are already seasoned, I only added  little bit of pepper and cayenne for a little extra spice. Add in 2 tablespoons of Greek yogurt or vegan mayo and voila! Easy chicken-free chicken salad!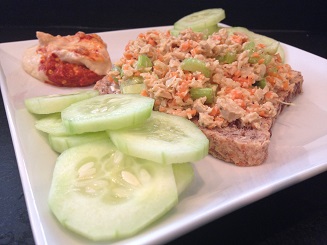 I'm happy to report my bro devoured his open faced sandwich and then asked for  a little more of the chicken salad by itself! I think that was a slam dunk for me. 🙂