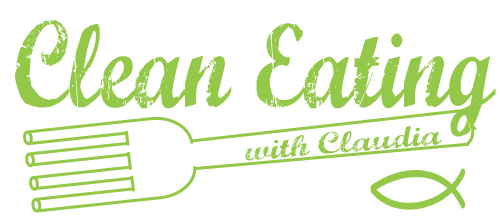 Chickpeas or Garbanzo beans? Whatever you call them, it doesn't matter, just eat them. This legume is full of fiber with just two cups providing you with your recommended daily value of fiber. 65 -75% of the fiber found in chickpeas include insoluble fiber which is great if colon health is important to you. In addition, research suggests that when consumed, chickpeas can actually improve your cholesterol. Chickpeas can assist with blood fat regulation, to include lower levels of LDL-cholesterol, total cholesterol, and triglycerides. Lastly to be mentioned in this blog post is that chickpeas are great for blood sugar regulation. It doesn't take long for garbanzo bean consumption to improve ones control of blood sugar and insulin secretion. Equally important, only one-third cup of the beans per day is suggested to provide these blood-sugar related health benefits. How awesome is that!?
With that being said, I have a fresh and delicious way for you to integrate chickpeas into your diet. This recipe is a great side or can serve as a meal on it's own. I personally love to toss in salmon to this salad or even tempeh for more protein.
All you'll need for this vegan friendly chickpea salad are the following:
1 can of 15oz chickpeas (drained and rinsed)
1 medium carrot
2 small stalks of celery or 1 large
1/4 of a small red onion
1-2 cloves of garlic
One fresh bunch of parsley or 1/4 cup
1 tbsp of lemon juice or juice of half a lemon
2-3 tablespoons of crumbled feta or goat cheese (optional)
salt and pepper to taste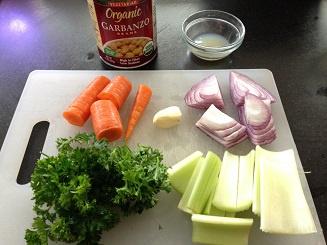 To begin, place all of your vegetables in a food processor.
Onion, garlic..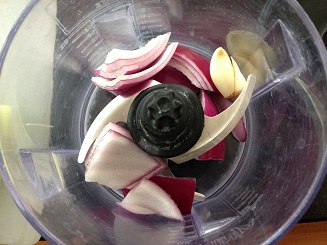 Carrot…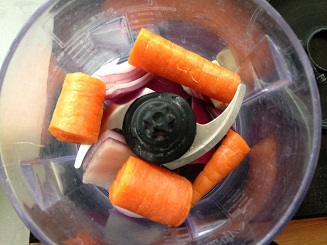 Celery…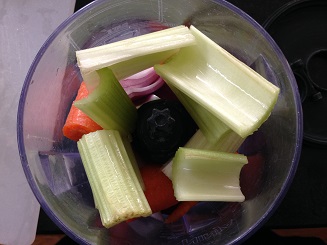 Parsley…oh my!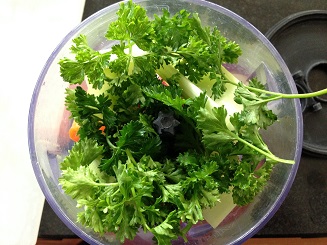 Blend it all together in your processor until finely chopped. Then, get your beautiful bowl of drained and rinsed chickpeas ready.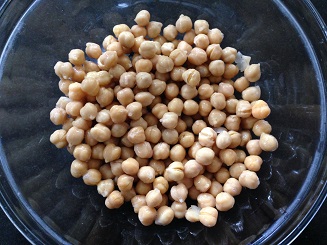 And add the vegetables, lemon juice, salt and pepper to the bowl.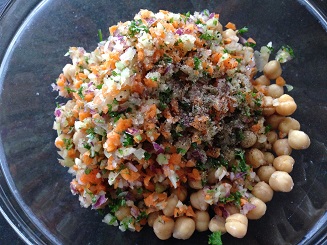 Mix and voila! That's it. I added a bit of crumbled goat cheese on mine as you see but leave that off if it doesn't suite your fancy.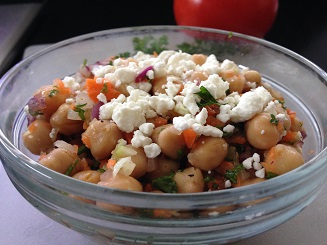 Best thing about this recipe is that you can do so much with it. You can add a tablespoon or two of olive oil, mix in some crunch such as slivered almonds, or even as previously mentioned, mix in a protein such as chicken, tempeh, tofu, or even salmon. Make this recipe your own and reap all the healthful benefits of eating chickpeas.
Nutrition Facts
4 Servings (1/2 cup)
Amount Per Serving
Calories 159
Total Fat 1.5 g
Cholesterol 0.0 mg
Sodium 385.9 mg
Potassium 343.5 mg
Total Carbohydrate 30.8 g
Dietary Fiber 6.3 g
Sugars 0.7 g
Protein 6.5 g