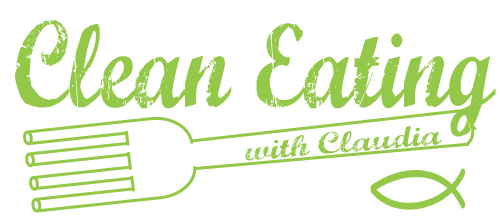 One of my favorite things is going out to a restaurant and seeing sliders on the menu. I think sliders are so delicious and I love the fact that they're little mini burgers! It allows me to have a couple and stop without feeling the need to finish an entire 1/4 lb burger because let's be real, I don't waste food. 🙂 Not to mention, Coach Kozak usually devours whatever I don't eat.
With normal burgers, when I have one, I never eat the top bun and the same goes for the sliders. So, what a great idea it is to actually be able to enjoy the sliders and eat both "buns"! May I present to you….Sweet Potato Sliders! You get the lean protein from the turkey and the slow burning complex carbohydrates from the sweet potatoes so you get long lasting energy without the crash!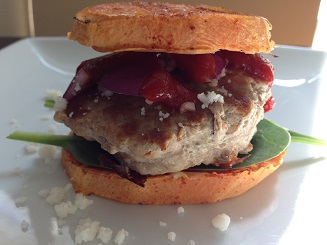 Here's what you'll need for your healthy sliders:
1 lb lean ground turkey (I used 93% lean)
2 tbsp egg whites
1 tbsp tamari sauce
1/4 tsp onion powder
1/4 tsp cayenne pepper
salt and pepper to taste
For the "buns"
2 large sweet potatoes
1 large egg
1/4 tsp garlic powder
1/4 tsp sea salt
1/4 tsp pepper
Preparation: Preheat your oven to 400 degrees. Peel your large sweet potato and slice into 1/2″ thick medallion slices.
Prepare your egg wash by whisking the large egg, garlic powder, salt and pepper in a bowl. Dredge your sweet potatoes through the egg wash and place on a baking sheet lined with foil or parchment paper. If using foil, spray with a non-stick cooking spray.
Bake on one side for 15 minutes, flip the sweet potatoes and continue baking for an additional 15.
Meat Preparation: In a bowl, combine the turkey, egg white, tamari sauce and the spices in a bowl and mix until thoroughly combined.
Assemble a golf ball sized ball in your hands and flatten the turkey into a small patty. Place in a grill pan or skillet that's been sprayed with a non-stick cooking spray and on a medium high heat, cook on either side for approximately 6-8 minutes or until cooked all the way through.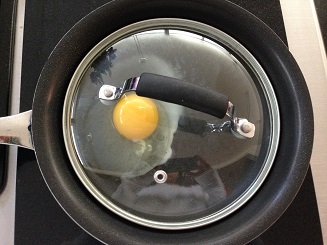 Just like a regular burger, go nuts with the toppings you'd like to add! I can never have enough spice so I made a spicy Sriracha ketchup using 2 tablespoons organic ketchup and 1 tablespoon Siracha sauce and added about 1/2 teaspoon to each slider.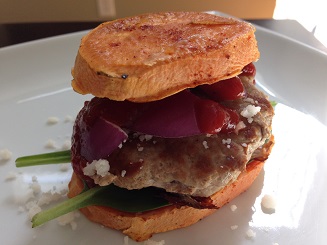 I also dressed it with sliced red onion, baby spinach, and crumbled dairy free mozzarella cheese. With my 1lb of ground turkey, I was able to make 9 sliders but it really depends on the size you make them. Any sweet potato medallions you have left over make great fries. ENJOY!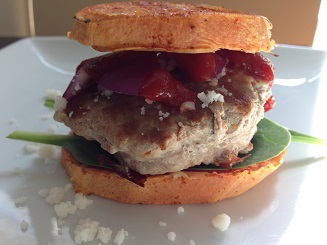 Nutrition Facts for Turkey
9 Servings
Amount Per Serving
Calories 75.9
Total Fat 3.6 g
Saturated Fat 1.1 g
Polyunsaturated Fat 0.0 g
Monounsaturated Fat 0.0 g
Cholesterol 35.6 mg
Sodium 158.0 mg
Potassium 14.8 mg
Total Carbohydrate 0.3 g
Dietary Fiber 0.0 g
Sugars 0.1 g
Protein 10.6 g
Nutrition Facts for Sweet Potato Buns
9 Servings
Amount Per Serving
Calories 44.0
Total Fat 0.5 g
Saturated Fat 0.2 g
Polyunsaturated Fat 0.1 g
Monounsaturated Fat 0.2 g
Cholesterol 20.7 mg
Sodium 22.3 mg
Potassium 29.3 mg
Total Carbohydrate 8.3 g
Dietary Fiber 1.3 g
Sugars 2.7 g
Protein 1.6 g