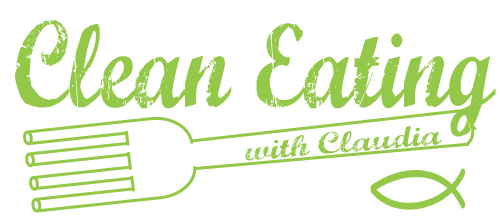 A couple of weeks ago, Coach Kozak and I went to a cute little bistro in our neighborhood for our weekly date night. I love eating out when the food is fresh, local, and made with great ingredients not to mention, it gives me a night off from the kitchen. For my entree I got the meatloaf with sauteed spinach and swapped out my yukon mashed potatoes and got sweet potato mash instead.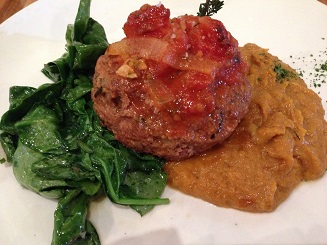 It was absolutely yummy however I prefer a little garlic in my life and in my opinion this mash was begging for it so I decided I needed to do a mash of my very own.
As you know via my previous posts that sweet potatoes are incredibly good for your health because of their awesome fiber content with close to 7 grams of fiber per serving. Not to mention it's full of beta-carotene, a great source of Manganese as well as vitamin C and E which are antioxidant vitamins that play an important role in disease prevention and longevity.
Here are the ingredients you'll need for your garlic sweet potato mash potatoes:
2lbs sweet potatoes (peeled and cubed)
2-3 smashed cloves of garlic
2-3 tablespoons of milk (I used almond milk)
1 tbsp butter or ghee (I used Earth Balance Vegan butter)
salt and pepper
Preparation: Bring 3 quarts of water to a boil and add a few sprinkles of salt to the water to flavor the potatoes as they boil. Once the water is at a rolling boil, carefully add your cubed sweet potatoes to the water.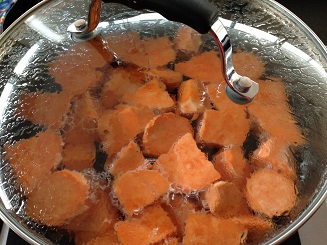 Allow your potatoes to cook for about 10-15 minutes in the boiling water and you can test your potatoes by piercing them with a knife of fork. You should be able to drive the knife through the potato fairly easily. Once they've achieved that consistency, drain your potatoes into a colander.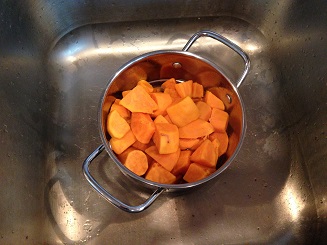 In the same pan you boiled the potatoes add the butter and the smashed garlic cloves and allow the butter to melt and the garlic to cook quickly until fragrant. This is a fast process and make sure the garlic doesn't burn.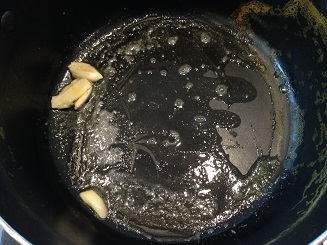 Next, add the potatoes back into the pan with the melted butter and garlic….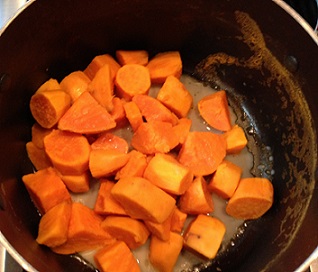 and begin the mashing process with your potato masher or you can even use a hand blender. While mashing, slowly incorporate the milk and add more if you prefer a more pureed consistency and you'll also have to mash a bit more. I like mine with a bit of chunks so I gave mine a rough mash and topped it with crumbled goat cheese! Which is totally optional of course.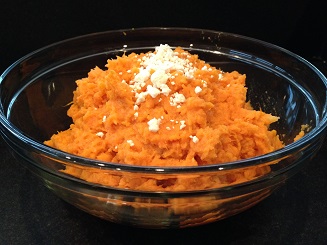 Quick, easy, and totally healthy. Now get to mashing!
Nutrition Facts
6 Servings
Amount Per Serving
Calories 152
Total Fat 1.9 g
Saturated Fat 0.5 g
Polyunsaturated Fat 0.4 g
Monounsaturated Fat 0.8 g
Total Carbohydrate 32.4 g
Dietary Fiber 5.4 g
Sugars 10.7 g
Protein 5.4 g