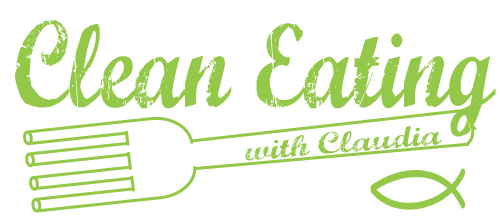 If you haven't tried Coach Kozak's butt kicking 30 Minute Fat Blazing Workout yet, you should! It was my Monday workout and I've only done it once months ago and I do remember it being challenging. For the cardio round I used 5lb dumbbells and kicked it up to 8lbs for the core and strength round. I won't lie to you, I did want to vomit! My legs were burning, my shoulders were on FIRE, and my heart was pumping but I didn't stop. I totally love, love, love this workout and the awesome endorphins that followed! It's a great workout for Mondays to get you started on the right foot for the week not to mention, it torches major calories.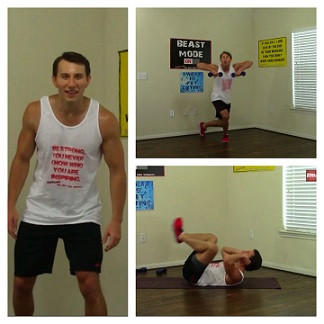 When I was able to pick myself up off the floor, the best way I know how to reward my efforts is with a post workout smoothie. This smoothie is thick and creamy and provides you with the sugar and carbs needed to restore those glycogen storages.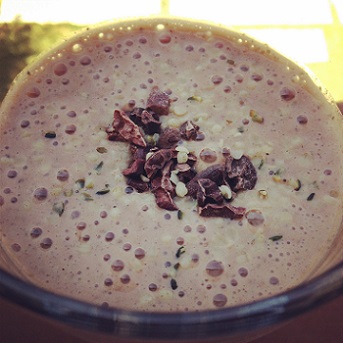 What you'll need for your high protein post workout smoothie:
1 1/2 cup unsweetened almond milk
1/2 a frozen banana
2 tbsp PB2 or 1 tbsp of a nut butter
1 tbsp chia seeds
1 21g scoop of chocolate protein powder
A dash of ground cinnamon
1-2 ice cubes
For garnish (optional) 1/2 tsp of hemp hearts and cacao nibs
In a high powered blender place all of the ingredients except for the cacao nibs and hemp hearts and blend until smooth, about 20 seconds. Pour into a glass and garnish with cacao and hemp. Enjoy!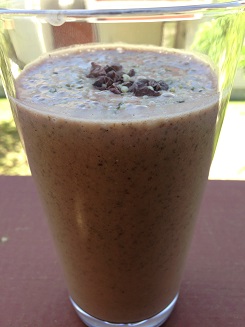 Nutrition Facts Calculated without the garnish
1 Serving
Calories 280.7
Total Fat 11.3 g
Saturated Fat 0.6 g
Polyunsaturated Fat 0.0 g
Monounsaturated Fat 0.0 g
Total Carbohydrate 27.5 g
Dietary Fiber 10.7 g
Sugars 8.3 g
Protein 25.6 g