Here is a small sampling of the 1000's of reviews HASfit has received. Will you be next? Start writing your own success story today!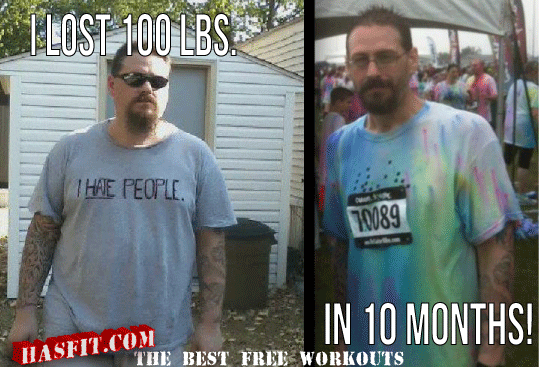 "Hey Coach Kozak, I just wanted to say thanks for the motivation, the workouts, and for helping me destroy 100 pounds of body fat since last August! (Lt. pic 282/Rt. pic 181 lbs.) The fat's dropping, the muscles are growing, and I couldn't be happier – The next step is to start the Warrior 90 routine – 1st thing in the morning! Thanks again!"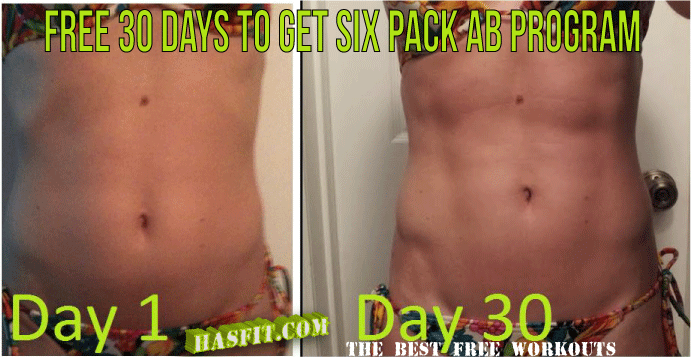 "I complete your 30 days to six pack abs. Here's the results 🙂 Thank you!!"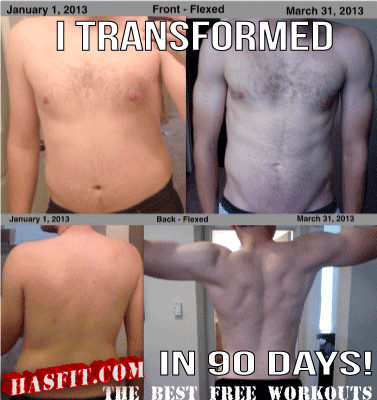 "Hello! I just wanted to thank you so much for doing what you do. I just finished your 90 day program, and it has saved my life. I've attached my before/after progress photos. I simply followed the diet plan EXACTLY, as well as the 90 day muscle building plan. It literally has been the best 3 months of my life, and I can't wait to utilize these workouts even more for the next 3 months! THANKS AGAIN!! HASFIT FOR LIFE!"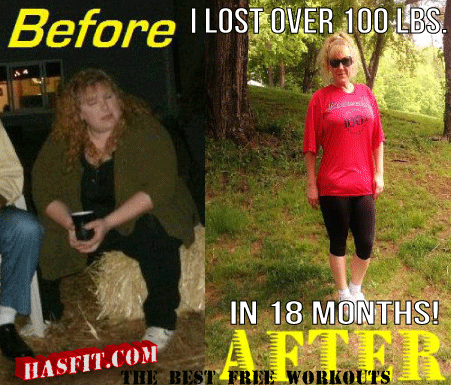 "After 18 months of eating healthy and working out… No surgeries or Magic pills… Just Hard Work, Determination. Self-Discipline … More work to do just love you page and thank you for keeping me motivated!!!! I have been asked so many times already what did i do. ALL HASfit's videos…. So I hope i get a few people motivated to watch and try … that is half the battle!! I still have a way to go to where I want to be … but if I can help just one person on the way .. I OWE HASfit AND MYSELF THE CHANCE TO DO SO!!!!"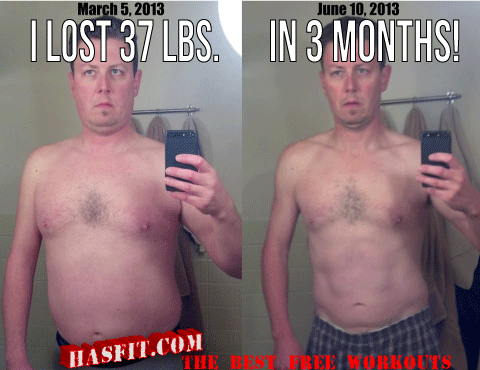 "Hey Coach Kozak, I can't thank you enough for your diet plan, free workouts and encouragement. It has changed my life! I have lost 37 pounds and transformed my body using the fat burn diet, 5 visits a week to the gym and two times through the 30 days to 6-pack abs workout."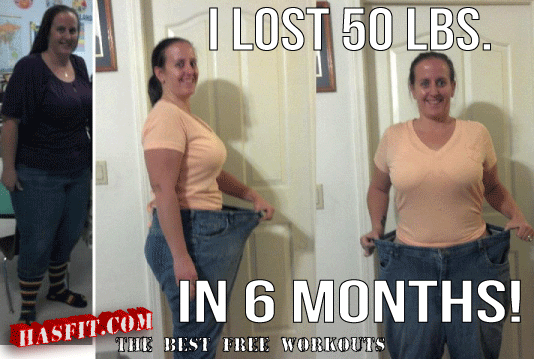 "I had to send a huge THANK YOU to Coach Kozak and the HASfit team. Back at the end of September, I posted how HASfit helped me lose weight while my husband was deployed with the military. You posted my message to your page, and there was so much support from the HASfit group. I'm now at 50 pounds lost, I've gone down from a size 24 to a size 14 and I ran my first 5K last Saturday. I can't even begin to describe how much my life has changed! In the first picture, there's a picture of me on the left at my heaviest, in March, and a picture of me on the right, in the SAME PANTS, just 6 months after starting my workout journey. In the second picture, there's a picture of me on the left in my workout clothes in early September, when I started running and doing the Warrior 90 training. On the right, there's a picture of me today, after working the HASfit program, running and joining a spin class (which I never thought I'd be able to do, either! My friends all go and always talked about it and I felt left out. Now, I go more than they do!). I just want to thank you for all you do, the inspirational messages, the free workouts and the diet advice. I can honestly say they have changed- and probably saved- my life. Thank you, thank you, thank you!"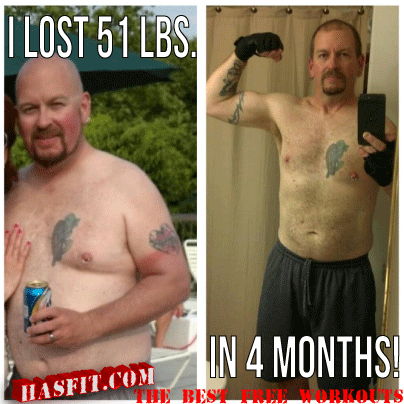 "Thanks coach Kozak….I went from 216 pounds to 165 in four months with your leadership…. you rock brother !!!!!"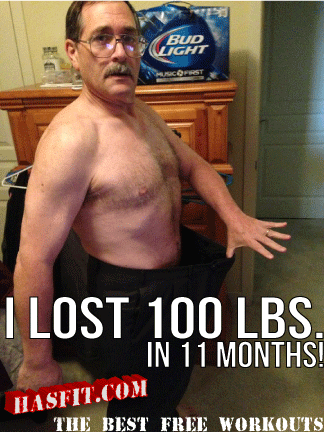 "I've had some folks ask me what's it like to lose 100 pounds…..I like to think of it as losing 1/3 of the old me…..some of me is still there, but the rest of me has taken a permanent vacation……there's a VOID where things had been, but a different, newer wholeness has filled this void…now see the results. July 7, 2012 290 lbs – June 21, 2013 192 lbs…. I want to thank Coach Joshua Kozak of HASfit (Heart and Soul Fitness) for his guidance"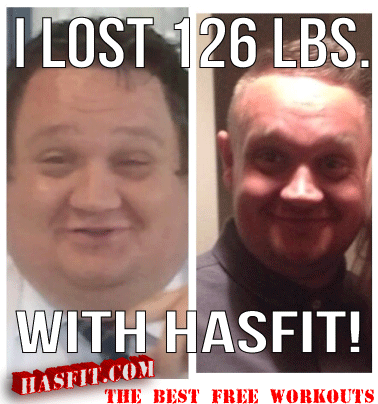 "Thanks HASFIT for helping me lose nine stone [126lbs.] since November. Hope my before and after shows other's what can be achieved using HASFIT. Great program that is really rewarding!!!!!"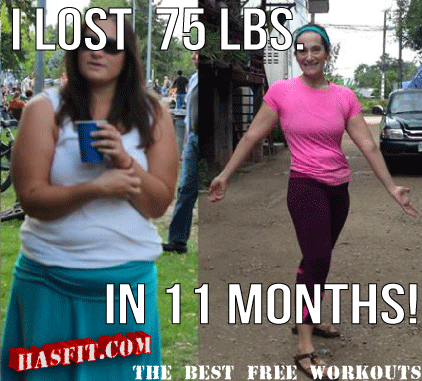 "Thank you HASfit, you keep me motivated and inspired. My life has not been the same since I discovered your wonderful sight!! 11 months and 75 pounds lost!~ Amelia"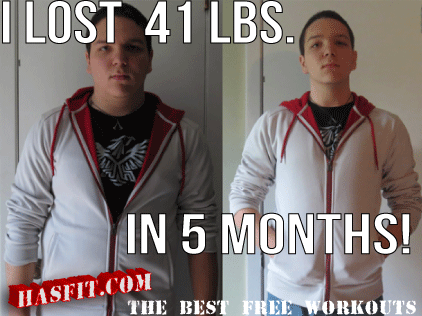 "Thanks to the coaches at Hasfit. I was able to lose 41 pounds. Thank you for the free motivation and videos. Keep making great videos! Thanks again," Andrew.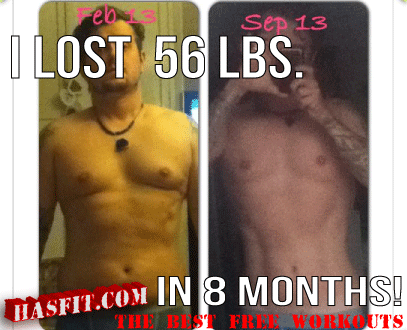 "Hey guys would just like to say thanks for your amazing work and among other things you have changed mine and my wife's life around. I have lost 4 stone [56lbs.] in 9 months and would like to that coach k and your team for great work," Glenn.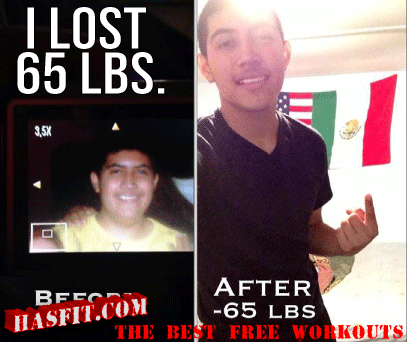 "Thank you HASfit for motivating me every day and also for the results I got. I've lost 65 pounds so far. Sadly I don't have a before picture but I lost almost all of my belly fat thanks to your teenage weight loss program," Francisco.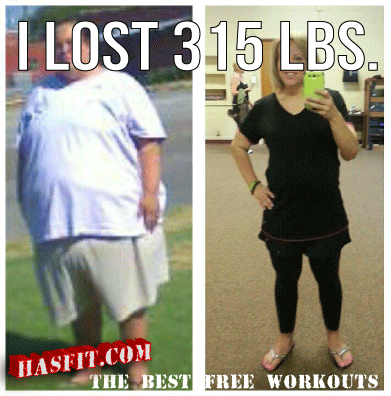 "Here's my before and after … down 315lbs! Thanks!" Regina.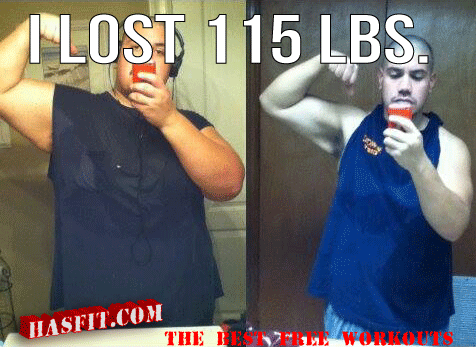 "Because your guys videos, it helped me lose 115lbs. Thanks!" Geraldo.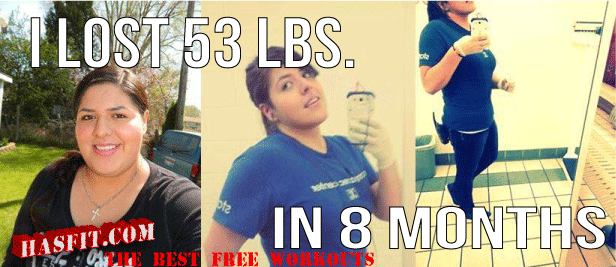 "Started my lifestyle change May 15, 2013. Down 53lbs. I'm a whole new person. I even taped "Beast Mode On" on my notebook for class." Angela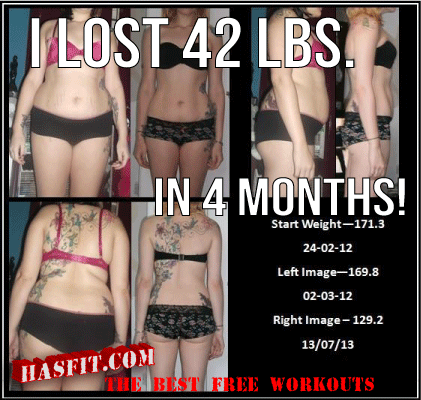 "Love your videos!!! Thanks x added a pic of my progress," Loiuse.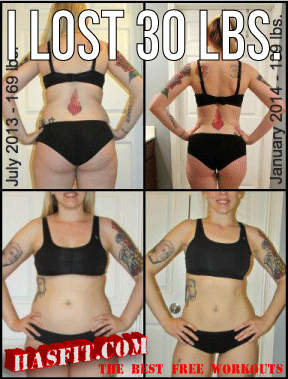 "I've never been in good shape. I wasn't raised with good eating or exercise habits, and I was never coordinated enough to play a sport growing up. After 24 years of living poorly, I realized I needed to make a change. I started following your meal plan six months ago, and soon after did your 30 Day Beginner Workout Program. I mostly lift weights now, but I've stuck with your diet for the most part (and added in some other things I've learned along the way). I'm seeing great results! I'm six months into the best journey of my life, in the best shape of my life, and I wanted to share! Thanks so much for what you do!" Jessi.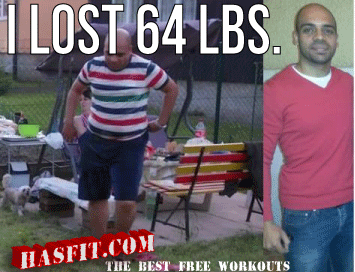 "I Decided to write you my Losing Weight Journey that if you could use it as a motivation for any person how is suffering from excessive weight and lazy to start a diet and a training plan on last July i decided to start my losing weight journey when i reached 108 KGs, my life was so hard, it was so hard to buy any clothes, your self confidence is getting down and any normal effort you do you feel that you are dying for example wearing socks for me it was like mission impossibe .
Today after starting my diet and training plan i have reached 79 KGs and I feel so much better, my life really changes and i feel that this was the best thing i have done in my Life.
Kindly, you will find attched my photo before and after starting, sorry for the quality of photos .
Finally, I'd like to thank Hasfit for helping ad supporting people to change their lives," Walleed.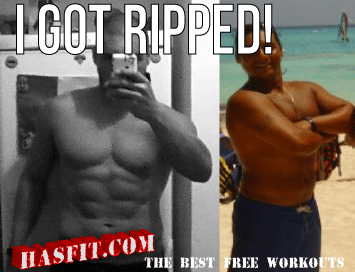 "hi coach kozak! i 've been doing one of your routines 4 times and this is how it looks! thanks," Benjamin.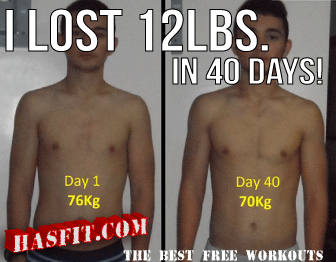 "I finished the (30 Day Low Impact Beginner Workout) and I am on my 10th day on the (30 Days Challenge To Get In Shape). I am going to finish all your programs," Roy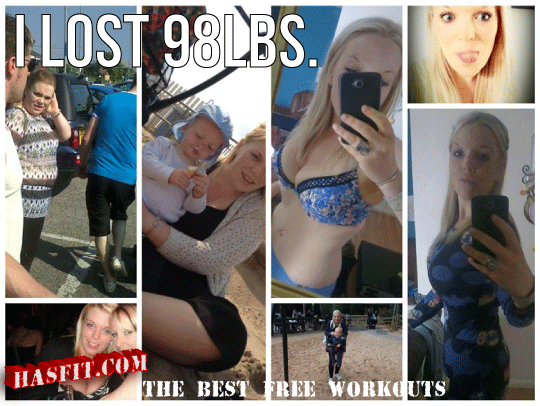 "Hi my name is katherine im 24 with two children and this year febuary 27th i decided i was sick of being so un healthy and over weight i wanted to show my sons a healthy lifestyle …… And i owe you a MASSIVE thankyou i dont go to the gym i do it all here at home and with your videos on you Tube they have helped get me were i am today along with eating clean …. no diet supplements or anything extra . Not a day has gone by were i dont workout or eat clean. I thought id show you my transformation … so far …. still along way to go as its a life style but ive ditched 7 stone so far and im so thankfull for your free you tube workouts that have helped me.Thank you," Katherine.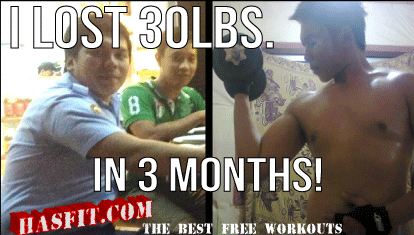 "tnx coach kozak bcoz of u im always motivated…! for always telling us not to give up! tnx HASfit… bcoz of ur workout i lost 40 lbs. in just 3 month!" Marvin.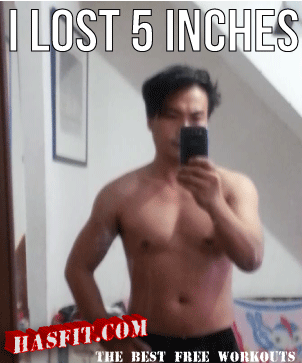 "I would like to thank you guys for all the great work outs,
from a 36 inch waistline now down to a 31 inch" Ronald.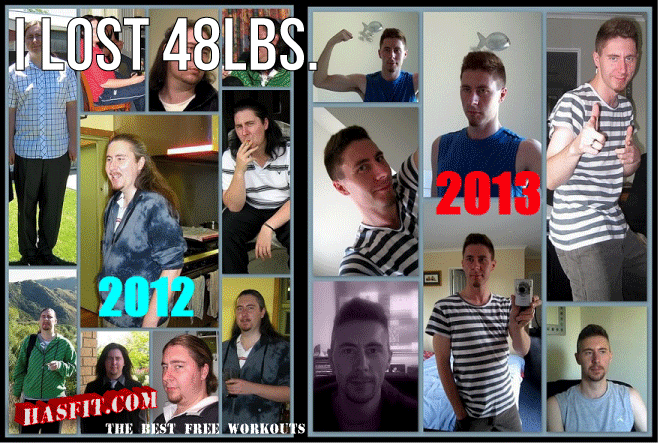 "After a 20kg weight loss this year, my most recent change was to cut my hair – The new me needed a looked after hairstyle to match my well looked after body! All these wonderful things that have changed with physical health and appearance are just a side effect of what I really started and continue exercising for Coach, and that is for my mental health. Exercising with you has taught me about 'the burn', the physical discomfort and challenging our bodies beyond what we think we are capable of," Ken.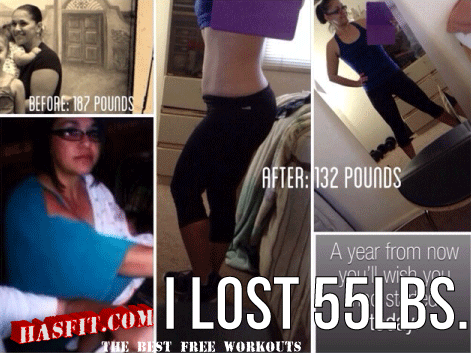 "My motivation! If you are just starting your fitness journey my number one tip to you for motivation is:: TAKE A BEFORE SHOT! Seriously! I don't have many pictures of me when I was overweight. I found these on my hubby's phone. My cheeks and arms are eeeewwww! Lol but it motivates me because I don't want to go back to that! Tired, cranky, moody, and depressed! Nope not anymore and not ever again!!! Stop thinking about it and stop complaining because neither will burn calories or help you reach your goals! My goal now : SIX PACK BABY!!" Candy.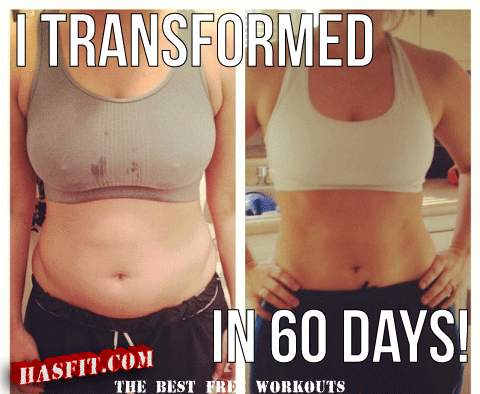 "This may be a little embarrassing but I don't care – #hasfit has completely transformed my body in 60 days I am so proud!" Katie.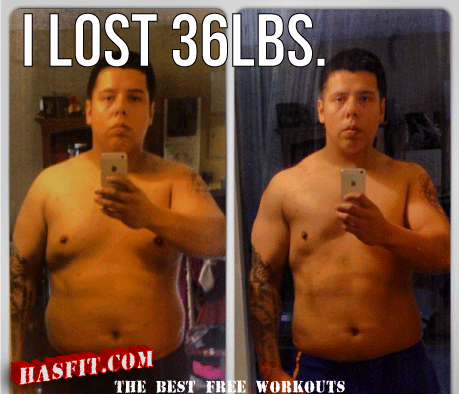 "PROGRESS!!!!! Sorry not trying to be arrogant but I'm jus amazed and proud of how far I came. If I can do it, anyone can!! #hasfit #dedication #-36lbs #stillnotthereyet #bestshapeofmylife," Drom.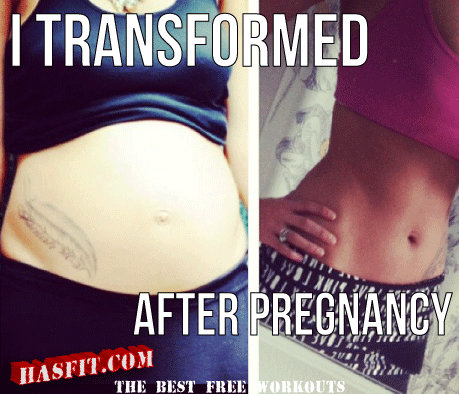 "I know it's not transformation Tuesday but I am just so excited about getting fit again. I have a long way to go but I am determined to be the healthiest that I possibly can. As a new mom it is so hard to find time to workout much less eat right, but seeing results motivates you to make time. I even workout with Maddox lol! He loves it too! If I can do it so can you! #fitfriday #preggobellytoabs," Kaylyn.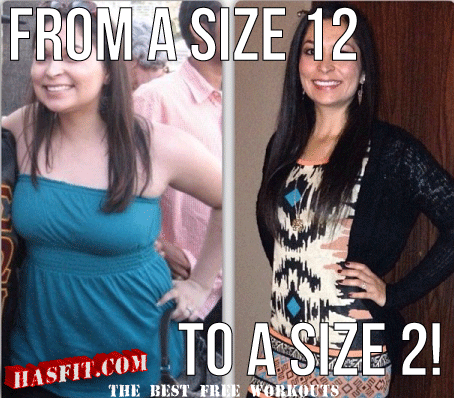 "The results speak for themselves. I went from a size 12 to a size 2, my doctor tells me I am as healthy as a woman younger than my own age, and I feel great!" Jessica.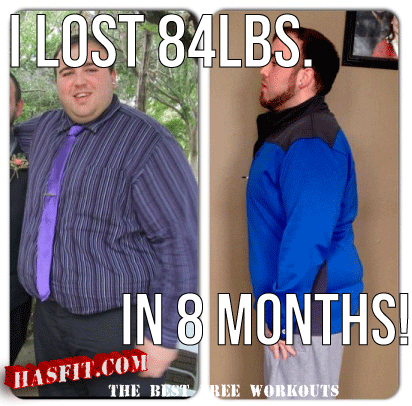 "8 months later, and 84lbs lighter. The only person you can fail is yourself, Never Die Easy!!! #HasFit," Mikey.
Thanks HASfit, for all the free videos and diet advice! My husband deployed in June, and I started my journey to get healthy. I've been doing your Warrior 90 videos, following your diet plan and have shed almost 40 pounds! My husband returns today, and I can't WAIT for him to see me! 🙂 Erin Dilley M.
I want to thank coach Kosak and anyone else responsible for the wonderful website Hasfit and the workouts. I am a mother of 5 on a strict budget. I can't afford to go to a gym. I found the hasfit website purely by the grace of God and I am now I have lost 13 pounds so far. I'm on my 60th day in the 90 day warrior. It has been such a blessing to my life. I am losing weight and I am looking and feeling better each day. My husband is super happy about all this and it has sparked much love and passion in our marriage. Thank you for making this free. I feel so healthy and strong. I have not weighed myself for a while but I was wearing size 12 dress for women and I actually bought a size 9 dress 2 days ago. I cannot thank you enough for allowing God to use you this way to bless people like me. May he prosper you and continue to use you to bring health and happiness to many other people. Love, Maria J C.
Coach Kozak, I recently (this summer) lost 25 pounds… I feel amazing! However, with your help I'm determined to lose that last 15! I love your cardio kickboxing! You are so great and I look forward to your motivation every night at 8! Thanks so much… I will make sure to keep you updated on my weight loss!
I'm so glad I found HASFit! it has really motivated me to get in etter shape. I'm a former athlete who has gotten complacent and whatever the other excuses are. I found your 10 Minute Trainer Workouts videos… a 3 parter. I've been starting with the dynamic warmups and then on to the work out. Since Aug.2nd, I've made minor changes in my eating habits (not diet neccesarily) and started these workouts last week… I'm down 8lbs in 18days already, with a target weight of 205 – 215 … i have a long way to go! Thanks.
I do these workouts three days a week to start off. I am really liking it. No disrespect to Insanity and Shaun T but there's something about their whole attitude and mantra that I find less than appealing. Keep up the good work! Tee M. R.
This is the first at-home workout series that has actually kicked my butt, and it's free! You are awesome for making this available to the world. Gabrielle F
Excellent short workout! Love your energy…you kept me fighting to the end! Shared with my page as well!
I started the 30 day challenge on Monday and the past two workouts seemed to be so easy until I did the Cardio Kickboxing today! KICKED MY BUTT!! Thank you so much for offering free workouts!
Coach K – Thanks for kicking my butt and getting started on an awesome cardio workout- Seeing the results already in only 1 month!!!!
Just discovered Hasfit; I'm 60 years old and have recently restarted a fitness program that is making me feel better. I'm going to work in your diet plan to burn off the bulges that I don't want. I'm also planning to insert some of the exercises from your videos. (Knee problems will probably limit use of some of the exercises, and I have balance issues due to medication, but I'm going to use what I can and find modifications where necessary.)
Great workouts guys! Keep up the good work, love the motivational talk in between the exercises!
Love ur page full inspirations and motivations and encouragements !!!!
I was getting tired of my same workout videos, and then I ran across one of yours! Now I am hooked! Thank you so much for all of your hard work and effort!
My son and I just watched your post from "Scrooge McDuff" letter and we think you & your work is amazing! My 12yr old, 170lb son just had a huge breakthrough & made the 30 day commitment. Your words make a difference! Thank you!
Hasfit, thank you so much.. Great motivation & inspiring words helps me keep moving. keep up your good works guyz, people like me needs positive words from all of you!
COACH! I FINISH THE 30 DAY CHALENGE NOW IM ON THE 4RTH DAY IN THE 90 DAY WARRIOR WORKOUT! I HAVE LOST SOME WEIGHT ITS NOT BECAUSE I WAS DOING THE WORKOUT WRONG. I WAS DOING THE DIET WRONG IM LOOKING FOWARD ON STARTING THE DIET AGAIN BUT THIS TIME I WILL DO IT RIGHT! AND THANK YOU! FOR THE MOTIVATION AND HELPING US AND OFCOURSE MAKING HASFIT FREE!
I love that HASfit is frank and honest without being insulting or initmidating. I stumbled on the webpage by accident and I am hooked. Thanks so much!
Coach Kozak, I recently (this summer) lost 25 pounds… I feel amazing! However, with your help I'm determined to lose that last 15! I love your cardio kickboxing! You are so great and I look forward to your motivation every night at 8! Thanks so much… I will make sure to keep you updated on my weight loss!
You guys are AWESOME… The Hasfit Free videos are exactly what my workouts have been missing…and they are perfect for getting in quick boost workouts when you dont have alot of free time.. The fitness/diet guide is amazing.. Keep up the Great work guys/Gals… I am Hooked for good.. I have been spreading the word to all my friends and coworkers…Next time I am in San Antonio I wll be sure to drop in and Thank you in person..
Thanks, HASfit, for all the free videos and diet advice! My husband deployed in June, and I started my journey to get healthy. I've been doing your Warrior 90 videos, following your diet plan and have shed almost 40 pounds! My husband returns today, and I can't WAIT for him to see me! 🙂
Just did the 5 min low impact workout and loved it! I definitely will be doing more of your workouts! They gradually help someone who hasn't worked out in a while get back in the groove! Love it!!!
I just finished my day 2 week 1 workout!!! Thanks guys! It's amazing what 10 minutes a day can do and how hard it is right now as well. I'll be in better shape in 30 days 🙂
Coach Kozak, you are a GOD ! im from the uk and your vids on youtube realy help me understand the workout and motivate me to improve , just 6.5 kg to go , thanks and keep up the amazing work !
Great workouts! Just started the 90 day Warrior workout, I am so excited. Thank you for everything you do and for making this FREE!!!
Hya Hasfit thank you so much for your Home workouts. It is simply the best. I started out with you guys when I couldn't even go 5 seconds without puffing and now I'm onto the Intermediate to Advance group. I feel alive and thank you for all your help. Your number 1 fan.
Coach, I am so glad I discovered your workouts… saved me a ton of money, and my teenage daughter and I are seeing results!! I am recommending to everyone! THANK YOU for keeping the workouts free!!!!
all freeee???? I've just started my journey, let's just say I have a LOOONNGGG road ahead of me, I have my own personal trainer/friend. But I have a situation where I live far out in the country (closest gym is 15-20min. away) & we are very limited on finances. So I can keep in contact w/ my friend via FB & see him once a week @ the gym I travel to, but for the rest of the week I'm on my own! I ran across your site & WOW! Thank you thank you thank you!!! It's the extra coaching & instruction I need!!! God Bless you for providing this, you will be saving lives!!! (I know you will be saving mine!). I'll be happy to share before & after pictures as they come 🙂 I'll also be sharing info. to your site!!!!!
Love working out with coach Kozak! He keeps me going right to the end of each workout. It's paying off.
Been working out w/you for about 2 weeks now and really liking it. Starting to feel results. Still working to get my mind and body to get in sink w/each other, and now it's harder to talk myself out of exercising, cause the self talk is talking myself in. If that makes sense. Anyway….Thank You!
Congratulations to coach Kozak! A true profesional! All perfect: workouts/explanations/PRESENCE/MOTIVATION. Fantastic job!
Have to say thanks. I'm a former Krav Maga instructor who was left unable to train after a broken neck and a few TBIs several years ago. Found your site on Youtube and it fits the bill. Thanks.
Dear Hasfit team,
I write this message to thank you. Some weeks ago, I decided to start working out after noticing that 25 pushups was the best I could do.
I always wanted to build muscles and get ripped, but I never seemed to be able to keep up the motivation. Looking for videos on youube, I stumbled across one of your 10 minute- workouts and I was amazed- 10 minutes were more than enouh to exhaust me completely. I visited yohr website, studied your programs and diet plans and decided to give it a try.I ordered protein- shake- powder online, filled my fridge with eggs, milk, meat and legumes and started your 90 days- muscle gaining- workout. Currently I'm at week 2, but thats farther than I had ever gotten without your videos. I don't know what exactly it is about your videos, but you just manage to motivate me even if I don't feel like working out at all. I really hope that I can keep this up and I want to thank you for your efforts. Keep up your great work, I really appreciate it. PS: please excuse any mistakes, English isn't my first language.
1st week on your 30 day challenge to get in shape.
been introducing myself to some new vegetables.
i love your workouts SO glad i found your page
Hello …. I wanted to change my daily workout with a new one n have browsed many times but didnt fit any fit to my "style" Thank God i found ur vid n leant n did it already this morning before off to d office. The result was very sweating , very challenging n d most of them was it's fun to do. Thank Coach 🙂 Greeting from Jakarta 🙂
its always great to see people who want to motivate people thank you for the motivation imgiving it evrything i got
You all are AWESOME!!! Every day and some days more than once I share your motivational posters. They are fantastic and so are the workouts with Coach Kozac. Please keep the posters coming I look forward to them every day.
I love that HASfit is frank and honest without being insulting or initmidating. I stumbled on the webpage by accident and I am hooked. Thanks so much!
First week of the 30 day challenge is DONE SON! I'm feeling great, confident, and motivated. I've noticed an awesome change in my mood on the days when I work out and even feel like I need to do more on my off days that's how motivated and pumped I am! Thanks Hasfit!
Im a busy mom of 2 kids and i dont have time do go so often to the gym but your videos help me a lot
I love you guys! Thanks for the great workouts. You have made working out with a broken arm fun! LOL! Now I am all healed up and back to work and better than ever. My dr. even congratulated me on how well I was doing and to keep up the good work. I am doing so well (thanks to the Lord up above and your workouts + motivation) that I didn't have to have physical therapy!
LOVE YOUR VIDEOS!!!THANKS FOR THE WORKOUTS!!
Hi, my name is Jessica and I joined a local gym on Wednesday. After loosing a baby a few months back I gained quiet a bit of weight and decided I need to do something about it. This morning I had an appointment at the gym with a trainer for her to tell me what I need to do to reach my goals and how it's possible and realistic. She followed that up by telling me its going to cost me over $5000 to have her work with me and give me a workout routine. I have bills, a mortgage, insurance, etc. I can't afford that. I was a little discouraged when I came home from work tonight thinking I can't do it on my own as I have no clue where to start. Then I found your website and YouTube videos. You've helped me more than you will ever know. I can't tell you how thrilled I am to find a program I can follow on my own and won't cost me a ton! You've given me back my hope of getting back to my pre-pregnancy size. Thank you!!! I will continue to use your site and hope you know you're helping people change their lives!
A continuous fan!
Was headed to the gym. Looking for a reason to turn around. Read this and found that kick I needed. Look out Water here I come
Love my Has Fit workouts! Quitting! NOT!
Just did this one and one of your 10 min cardio workouts also, thank you, I'm sweating like you wouldn't believe.
P.S. thank you for sharing your knowledge and your site with us! You're greatly appreciated.
Coach you are really great. I can't thank God enough for you and hasfit.com!
your awesome! thanks for doing all this hard work for me=). i cant wait to see the new stuff.
Today is the first day of the rest of my life!
JUST FINISHED MY WORKOUT AND IT WAS GREAT!!! THANKS GUYS FOR THESE FREE WORKOUTS 🙂