Intermediate Difficulty


The 20 minute assassin cardio training will leave you dripping in sweat. This aerobic workout utilizes optional dumbbells and a total body resistance suit called the Mass Suit to burn calories fast! Check out the
Mass Suit
to burn 2x the calories in the same cardio workout. The aerobic exercises and cardio exercises can be done from home or in the gym. Cardiovascular exercise is great for both men and women of an intermediate fitness level.
Complete 4 Rounds of the following movements:
180 Twists x 30 sec
Wall Sit + Twist x 30 sec
Standing DB Pullover + Hot Feet x 30 sec
Arms Overhead V-Hold + One Leg Kick x 30 sec
Burpee + Opposite Elbow to Knee Twist x 30 sec
Alternating Pronate Front Trap Raise x 30 sec
Reverse Lunge + Front Kick x 30 sec
Crossover Jumps w/ DB's x 30 sec
High Plank Butt Kicks x 30 sec
Squat + Overhead Press x 30 sec
Want to Burn More Calories in Less Time?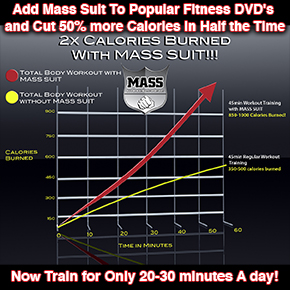 Workout Routines Average Calorie Burn with and without Mass Suit on
Cycling Spin Class – 1 Hour = 350 – 550 Calories Burned (Avg.) With Mass Suit On = 700 – 1500 Calories Burned (Avg.)
Treadmill – 30 minutes = 200 – 400 Calories Burned (Avg.) With Mass Suit On = 400 – 800 Calories Burned (Avg.)
Cardio Kickboxing Class – 1 Hour = 500 -700 Calories Burned (Avg.) With Mass Suit On = 1000 – 1,400 Calories Burned (Avg.)
Workout DVD's – 1 Hour = 300 – 500 Calories Burned (Avg.) With Mass Suit On = 600 – 1000 Calories Burned (Avg.)
More Mass Suit Stats
"Biggest Loser" past contestants train in Mass Suit behind the scenes to lose more weight and to keep the weight off
The Mass Suit will cut 50% more calories in half the time
The Full body resistance suit adds a constant resistance to your entire body at all times making your body work harder thus cutting more calories in less time
Weight loss has a lot to do with emotions, take your emotions and anger out with an intense workout system, not with food
Any age or size can use the Mass Suit. Even the "Biggest Loser" contestants who way over 450 pounds. One size fits all!!
The Mass Suit is a great added tool with a nutritional diet.
Control your weight without harming yourself with heavy stressful weights. Weights may harm your joints.
The Mass Suit can be used at home with workout DVD's and workout gaming systems to intensify and burn double the calories.
The Mass Suit will cut your workout time in half
Take the Mass Suit on a walk around the block will intensify and burn more calories than a regular walk
The Mass Suit will cut baby weight that was gained during pregnancy in a shorter time while training at home
Lose weight while walking the dog, walking your baby in the stroller, vacuuming and doing household chores (video)
The Mass Suit will work your entire body while toning every muscle unlike training one specific body part with weighted machines
While using the Mass Suit for an arm routine it will also be working your core and burning more calories
Don't let stress get to you, use The Mass Suit to take that stress and cut weight
The Mass Suit is not big and bulky, it's very comfortable and can be worn underneath your clothes
Traveling is not an issue to break your workout routine, The Mass Suit travels wherever you go, hotel workouts, vacation workouts no problem!!