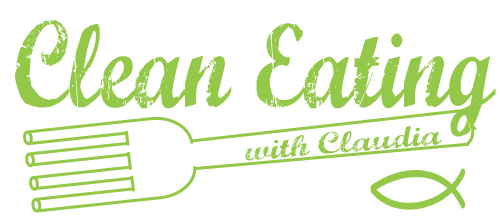 Who doesn't love pizza?! If you don't, then there is something seriously wrong with you.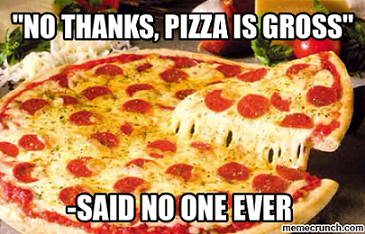 So when my brother was here he had a serious pizza itch that needed to be scratched. So as we all know, I've done a couple of variations of the cauliflower pizza crust and knew that wouldn't be enough to feed us all. Between my brother and Coach Kozak, forget it, grocery bill has definitely gone up.
So I had a thought….if we can make cookies with chickpeas, what about a pizza crust?? I had chickpeas on hand and also had garbanzo flour that I wasn't too sure what to do with yet. So I made my cauly/coconut flour crust and also the chickpea pizza crust for a Sunday Pizza Night!
So here's the breakdown of the ingredients you'll need for this chickpea pizza crust recipe:
1 15oz can of chickpeas (drained and rinsed)
1 1/4 cup of garbanzo flour
3 tablespoons ground flax seed
6 tablespoons water
1/2 tsp dried basil
1/2 tsp parsley
1/4 tsp of pepper and salt
1-2 minced cloves of garlic
So to begin, mix the ground flax and water together and set aside for about 10 minutes to thicken. Also, preheat your oven to 425 degrees.
While the flax seeds are doing their thing, combine the chickpeas, flour, garlic, and 1/2 cup of water and blend until totally combined. I had to open mine and scrape down the sides of the processor to make sure everything is well combined. In total, I processed for about 1 minute.
Next, I removed the thick batter and placed it in a bowl. I then folded in the ground flax, dried basil, dried parsley, salt/pepper until all of the ingredients are well incorporated.
Place a piece of parchment paper on a pizza stone or sheet and place the thick batter on the parchment paper. The batter will be sticky but that's ok!
Next, wet your hands (to prevent sticking), and flatten the batter out into a round pizza shape and until the batter is about 1 inch thick.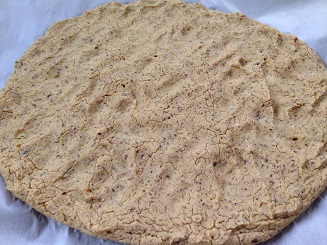 Bake the crust for 15-20 minutes or until a light golden brown.
Next comes the fun part! Add the toppings of your choice…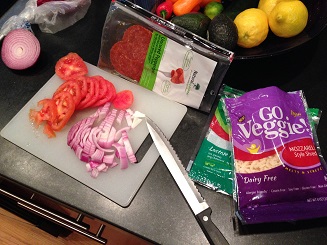 Since this was my brother's thing, I let him go nutso on the toppings. He added vegan mozzarella cheese, bell pepper, onion, mushrooms, tomatoes, pepperoni (no longer vegan), and serrano peppers because he can't eat anything without burning off his taste buds.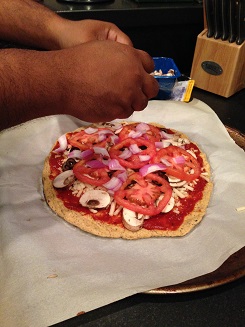 Once your toppings are on, bake for an additional 12-15 minutes or until cheese is melted and veggies are roasted!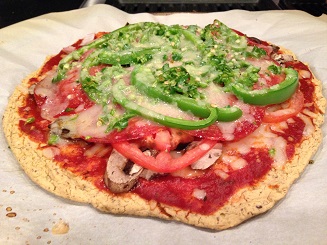 I had a couple of bites from the pizza and it was delicious. What I liked about it was that it was extremely filling so eating two slices is totally satisfying. We of course made an incredible salad to accompany our healthy pizza and enjoyed every bite.
This pizza is super high in protein coming in at 7 grams per slice and also high in filling fiber! Nutrition facts only account for the crust so be sure to include your toppings for a more accurate count. Enjoy!!
Nutrition Facts
8 Servings
Amount Per Serving
Calories 143
Total Fat 2.7 g
Saturated Fat 0.1 g
Polyunsaturated Fat 0.7 g
Monounsaturated Fat 0.1 g
Total Carbohydrate 24.1 g
Dietary Fiber 6.2 g
Sugars 1.9 g
Protein 7.0 g