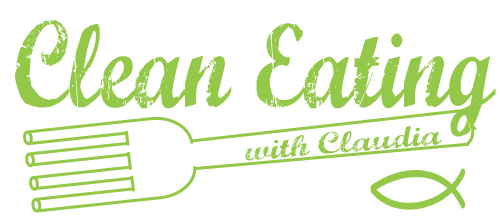 Coach Kozak and I had a fast and effective workout session today at the gym. Between work and my workouts, I stay pretty darn busy but never too busy to nourish my body when I need to. After the gym, we came home and I whipped up some recovery smoothies. Now I may not be in Michigan (Coach's homestate) where the snow is piled high but I'm so over this silly cold/cool weather. I'm ready for my bikini and a fruity tropical drink in my hand. However since I'm at home in Texas, I'll settle for a fruity post workout smoothie. 🙂
On the menu today, pineapple! Pineapple is great for recovery because it contains the enzyme bromelain. Bromelain aids the body in the digestion of protein and can also assist in the curbing of inflammation of athletic injuries. In short, it's great for tissue growth and healing.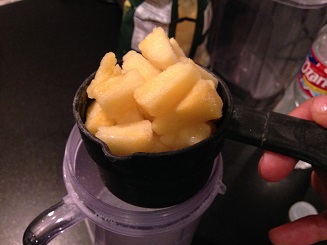 Here's what you'll need for your Pineapple Protein Smoothie:
1 1/2 cup of filtered water or coconut water
1/2 cup diced frozen pineapple
1/2 a banana (frozen for icier consistency)
1 stem of kale (torn and removed from stem)
1 scoop protein powder (I used a vanilla protein powder)
1/2 tsp of chia seeds on top once blended (optional)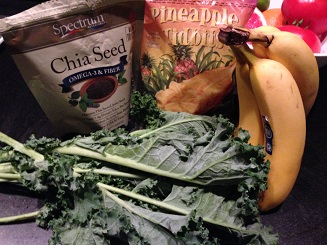 Place all of your ingredients into your blender except for the chia seeds and blend for about 30 seconds or until completely smooth!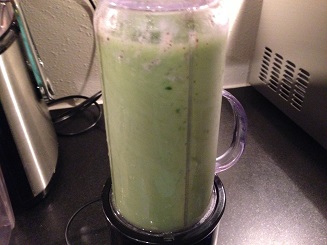 Top it with some beautiful chia seeds or don't, that's up to you.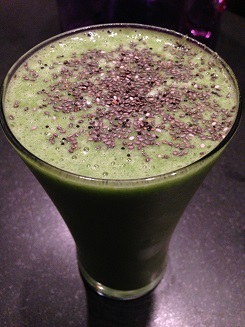 Isn't it a beauty? Just make sure you get background items out of the shot unlike someone who was just ready to down her smoothie. Enjoy y'all!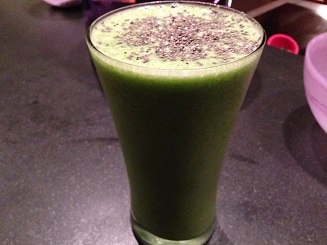 Nutrition Facts calculated using filtered water. Adjust accordingly for coconut water.
Nutrition Facts
1 Serving
Amount Per Serving
Calories 233.0
Total Fat 4.0 g
Cholesterol 60.0 mg
Sodium 103.2 mg
Potassium 693.1 mg
Total Carbohydrate 32.9 g
Dietary Fiber 5.5 g
Sugars 17.2 g
Protein 21.3 g